Who would say no to a healthy and delicious snack? If you follow a certain dietary routine, this should be a go-to food that helps you gain self-control over hunger and a ravenous appetite. Snacks are also one of the best options if you don't have enough time to prepare meals every day; it's pretty good to have something on hand, especially in emergencies. Whether you have a sweet tooth, a taste for salt, or a gourmet pallet, this list is for you. To help you find ideas, here are the 6 best healthy and easy-to-prepare snack recipes, divided into two categories: sweet treats, and salty and savory snacks.
Best Healthy and Easy Snack Recipes To Make In Home
1. Apple Donuts (No-bake!) The Easy Snack Recipes
This first snack is for people who have a constant craving for donuts, but cannot turn their back on them entirely. Munching apples disguised as donuts is much better than eating 400 calories from the real ones.
What you'll need:
2 apples
½ cup spread of your choice (chocolate, cream cheese, etc.)
Sprinkles (optional)
Fruit bits (optional)
Preparation:
Make ½ inch slices on the apples and use a cookie cutter to make a hole in the middle of each slice. Put the spread of your choice in a piping bag and cover the apple rings with it. You can add either crumbles or pieces of fruit as a garnish to make the spread look and taste more attractive.
2. Fro-Yo Fruit Cubes
Do you have a sweet tooth, but are you on a healthy diet? Frozen yogurt is the best alternative for ice cream; it contains about 5 times less fat and calories than ice cream. The great thing about these simple snack recipes is the frozen yogurt is bite-size with a fruity flavor!
What you'll need:
4 cups yogurt
2 cups berries of your choice
Preparation:
To make these delicious, simple snacks, all you need to do is mix the berries and yogurt in a bowl. Take a silicone ice cube mold and pour in the mixture. Freeze it for 3-4 hours and voila! Your Fro-Yo bites are ready to serve!
3. Trail Mix Energy Bites
This last treat is naturally rich in protein and healthy fats. The most pleasant thing about it is that you can prepare it according to your preferences, but the recipe below is a general one, so feel free to add ingredients to suit your taste.
What you'll need:
1 cup rolled oats or quick oats
¼ cup honey or maple syrup
¼ cup chopped walnuts
¼ cup chopped almonds
¼ cup dried fruits (optional)
¼ cup mini chocolate chips
¼ cup peanut or almond butter
Salt (to taste)
Preparation:
Place all the ingredients in a large bowl and stir everything together well, making sure that everything is evenly distributed and spread. Put it in the fridge so that it becomes semi-hard for shaping; take it out after 30 minutes. Spoon out about 1-2 tablespoons of the mixture and shape into balls. You can put them back in the fridge for firm trail mix balls or just put them in a covered container to get softer bites.
4. Pizza Chips
It is undeniable that most people cannot say no to pizza, no matter how unhealthy it may be; but why expose yourself to high calories and fat when you can make a healthier and more enjoyable version of it?
What you'll need:
2 cups shredded low-moisture mozzarella cheese
½ cup shredded parmesan cheese (optional)
½ cup mini pepperoni
1 teaspoon garlic powder
1 teaspoon basil
Salt and pepper (to taste)
Preparation:
First of all, you should preheat your oven to 350°F (180˚C). Mix the mozzarella and parmesan cheese, garlic powder, basil, salt, and pepper in a large bowl until everything is evenly distributed. If you have a mini muffin tin, grease it and put a tablespoon of the mixture in each hole; otherwise, put two parchment papers on a baking tray and flatten a tablespoon of the cheese combination. Place one mini pepperoni on each and bake for 8-12 minutes, or until the edges turn golden brown. Let the chips cool for about 5 minutes and serve with marinara dip.
Read also: Best Unique Gift Ideas
5. Veggie Fries
French fries are by far one of the most popular junk foods of all time, and while it is true that they are made from potatoes, preservatives are added to most commercial versions that most of us buy. If you really want some fries to nibble on, vegetarian fries are the best way to go. You can also add some ginseng to improve the taste.
What you'll need:
2 vegetables of your choice (ideal are: carrots, asparagus, zucchini, beet, and sweet potato)
2 tablespoon olive oil
1 teaspoon salt
1 teaspoon pepper
1 teaspoon paprika
½ teaspoon garlic powder (optional)
Preparation:
While your oven is preheating at 220°C (425°F), cut your vegetables into sticks that are ½ inch thick. Mix the sticks and all remaining ingredients in a large bowl. Place a single layer of parchment paper on the baking tray and place the sticks on top. Bake for 20-25 minutes, making sure to turn the sticks halfway through so that they bake evenly. Serve the French fries with your favorite dip and enjoy!
6. Chickpea Salad
Who doesn't love a hearty salad? Salads are one of the most essential foods for people who pay attention to their diet. There are different types of salads, and this is one you should not miss.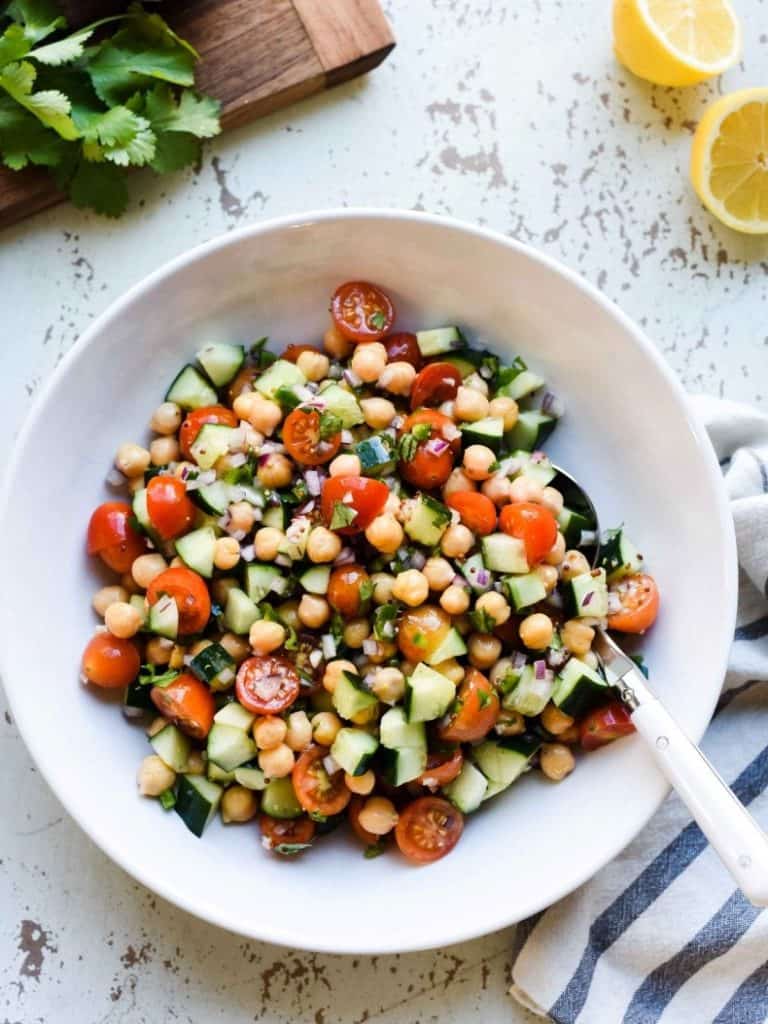 What you'll need:
1 ½ cups drained and dried chickpeas
1 cup sliced cherry tomatoes
½ chopped large onions
1 cup chopped parsley
3 tablespoon lemon juice
2 tablespoon olive oil
2-3 tablespoon feta cheese
Salt and pepper (to taste)
Preparation:
Mix all the ingredients in a large bowl; make sure that everything is mixed evenly. Adjust the flavor to your taste. You can either serve the salad the way you like or leave it covered for about 30 minutes to allow the ingredients to absorb the flavors more easily.
Would you like other ideas? Use the HowUdish App and find other healthy snack options near you. Please tell us your best recipes for healthy and simple snacks in the comment below.
Author
Hi, my name is Mohsin Hassan. I help small and medium-sized companies from different industries and from different locations to rank their websites in the search engines with our SEO efforts. Drop me a message on social media and I look forward to speaking to you.
Twitter: https://twitter.com/mohsinhassan_24
Company Website: https://leadcubemedia.com/