Suppose you need to create and edit a video quickly. You may need to combine several videos and photos, trim a video or add the background music, and so on. For such simple tasks, you need to use online video editors. Why download program editors to your computer? They are often paid and take up space on your hard drive. And online editors allow you to do this in a browser, without the hassle of downloading and installing programs.
Today I will show you how to create online videos by combining multiple images and music together with an extremely simple online tool called FlexClip.
What is FlexClip?
FlexClip is an easy to use online video editor that allows you to turn your ideas into animated videos in a hassle-free way. Even if you do not have the professional editing skills, you can create a video that will amaze your audience with simple drag and drop features.
How to Create Online Videos from Photos in FlexClip?
Step 1: Prepare a computer with the network connection and available materials that you want to integrate into your video.
Step 2: Go to the website https://www.flexclip.com/ to make online video clip. Here click Get Started – Free, and then the site will ask you to log in to perform the next steps. You can always click on Sign up with Facebook or Sign up with Google as you like to log in quickly.
Step 3: Click the Create New button under My Panel page to start creating videos.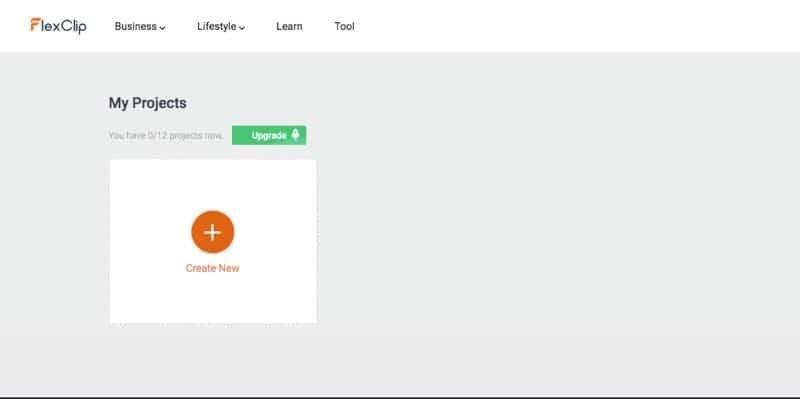 Step 4: Choose Start from Scratch in the top right corner of the popup template page.
Step 5: Then, you are transferred to the main editing interface to start adding images, videos, logos, text, and music, etc.
Step 6: Click Add Local Media and upload your favorite images or videos onto the Storyboard. Here you can change the order of them, add transitions, or delete any material you do not want to use with one click.
Hint: Click on each uploaded material to edit it, such as adding captions, rotating, or zooming in and out.
Step 7: Click on the Add Music button to upload your song on your device or choose one from FlexClip's audio library. You can then cut the music or adjust the volume to your liking.
Once you have uploaded your photos, videos, and music, click on the Preview button on the top of the screen to preview your video. If you like it, simply click the Export Video button or click Continue Editing if not satisfied with the video.
Step 8: After clicking Export Video, you will need to choose the video quality (480p, 720p, or 1080p).
You will wait a while for the software to create videos for you. Depending on the number of materials you upload and the output quality you choose, the time will vary. The higher the quality is, the longer it will take to create the video.
So I have finished you how to create online video clips with photos, music, and custom text to your liking. If there are any difficulties, please comment at the end of the article for support. Good luck!