The cameras in the new smartphones are getting more amazing every day and with the ability to record very high resolution video, they make many of us "cameramen". But making a good video isn't just about recording the video. To make a good video, you have to edit it. Sometimes raw video is not the best video. A little tidying up and a few extra colours can make it even more fantastic. And because technology is getting smarter every day, you don't even have to be professional to edit your videos, and you don't even have to open your computer to edit.
10 Best Android Apps For Video Editing
There are many Android apps that can help your video look more appealing. To save you the time of looking through all these apps, we have listed the top 10 best Android apps for video editing in a short list.
1. InVideo
Marketers, publishers, people, and agencies will all benefit from this online video editing tool. This desktop-compatible program is best in class for several reasons, including support for intelligent frames, automated voice overs, and much more.
This video editing software is praised by users for its excellent customer service, user interface, value for money, and, of course, functionality.
InVideo is an internet video editing tool that may be easily accessed through a desktop or mobile browser. By uploading your raw video footage thereto, you'll be able to edit videos online with the assistance of pre-configured templates. The key factor that offers a grip to that is you get all the regular video editing tools and features that you just will find in an exceedingly paid software.

InVideo is a video-making platform that allows users to create professional-looking videos with paid templates, graphics, and music. It is a video-making platform that allows users to create professional-looking videos with paid templates, graphics, and music.
2. Magisto
A simple application that allows you to explore the basic editing operations. You can trim your video, you can use filters and many transitions to edit your video. You can add music and other sound effects to make your video cooler. It's a filmmaker with minimal difficulties. With Magisto you can express your creativity without any problems. The magic of Magisto will make your video professional.
Download Here
3. AndroVid – Video Editor
AndroVid is a very handy video editor with many functions and is easy enough to use. The app is not confusing and the options are self-explanatory. You can also take single frames from videos and the split video option is very easy. You can use the zoom while cropping a video accurately. You can also make a video with your images by adding a few effects and sound. It has a cool slow-motion feature that makes your video look amazing.
Download Here
Also Read: 11 Best Mac Apps For College Students To Survive In College
4. KineMaster
KineMaster is a fully featured professional video editing software. KineMaster is one of the best video editors. It has a multi-track timeline with the option for multi-track video. You can add video with full drag and drop support. It made the work easy. It is easy to use and features like instant preview are a great help when editing a video. It supports any format and offers a variety of themes, animations and video-audio effects, which makes this video editor amazing.
Download Here
5. PowerDirector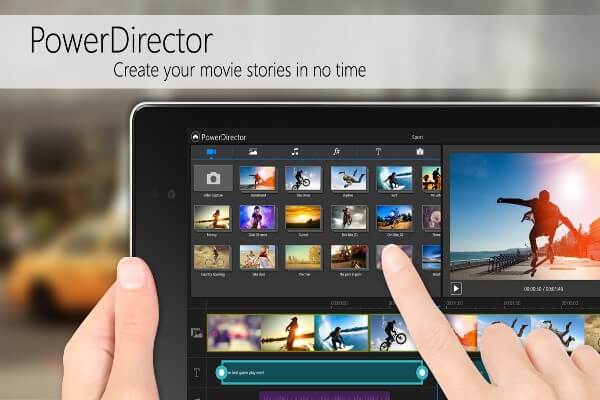 It is a video editor that brings out the director in you. It has a professional timeline editing interface that allows you to edit videos simply by dragging and dropping. The audio and video effect is also very good and the effects enhance the video. With just a few touches you can flip, split and edit the videos. You can easily edit your Full HD videos. The slow motion option is great, it will give your video a new touch. Those who have used it on a PC will love it; it provides a familiar interface on your Android device.
Download Here
6. We Video
Video Editor from We Video is a powerful application for editing video. It has an easy to use storyboard-style layout that is very user-friendly. The animated interactions make your video creative. Adding subtitles and titles is very easy. Once editing is complete, you can use the application to upload directly to many social networks.
Download Here
7. VidTrim
VidTrim has a very simple interface and is often considered the best Android video editing application. The application gives you the freedom to capture any image you want to edit. With the "Crop Video" option you can cut out all the boring moments in your video and make it more visible. You can also rip the sound of the video to an MP3 file.
Download Here
8. Adobe Premiere Clip
From the manufacturers of Photoshop, Adobe has launched a video editor for Android. It is hard to ignore the product from Adobe. Making a clip with your pictures is very easy, and you can also choose the soundtrack. With the new function you can also synchronize the music to get the beat of your video like a pro. The slow motion function with different effects makes your self-made video look like a professional work. As it is an Adobe product, you can easily open the file in "Adobe Premier Pro CC" on your PC to give it the finishing touch.
Download Here
9. Insta Shot
This video editor application is quick and easy to use. You can easily add frames, frames and squares to the video. With the touch of a button, the video is cropped and cut. You can also create a video collage that is merged with music to add a nice touch to your video. In this way you can add many emoticons to your video. The effects are limited but very amazing and each effect will make your video look great. It supports GoPro video perfectly. You can easily edit the video and publish it directly to Instagram.
Download Here
10. Viva Video
One of the most popular video editors on Google Play. Here you can edit your videos in a hundred different ways. You can add audio dubbing, trigger your clip and merge two videos with great transitions. The storyboard layout of the app makes it very user-friendly. The amazing interface and powerful tools make it a great video editor.
Download Here