Video Editing Android Apps: The Cameras in new smart phones are getting amazing everyday and with the ability to record videos at very high resolution is making many of us a "Cinematographer". But making a good video doesn't mean just capturing the video. To make a good video you need to edit it. Sometimes raw video isn't the best video. Little clean up and few extra color can make it more awesome. And with technology getting smart everyday, you don't even have to be professional to edit your videos and also to edit, you don't even have to open your computer.
10 Best Android Apps For Video Editing
There are many Android apps, which can help your video look more appealing. To save your time to go through all those apps, we have short listed 10 Best Android apps for Video Editing.
1. Magisto
A simple application which will let you explore the basic edits. You can trim your video, you can use filters and many transitions to edit your video. It allows you to add music and other sound effects to make your video more cooler. It is a movie maker with minimum difficulties. Magisto will let you express your creativity without any problem. The magic of Magisto will make your video professional.
Download Here
2. AndroVid – Video Editor
AndroVid is a very handy video editor with many functions and simple enough to use it. The app is not confusing and options are self explanatory. You can also grab single frame images from videos and its split video option is very easy. You can use zoom while trimming a video to trim accurately. You can also make a video with your images by adding few effects and sound to it. it has a cool feature of slow motion which makes your video look extra awesome.
Download Here
Also Read: 11 Best Mac Apps For College Students To Survive In College
3. KineMaster
KineMaster is full featured professional video editing software. KineMaster is one of the best video editors. It has multi tracked timeline with multi track video option, you can add video with full drag and drop support. It has made the job easy. It is easy to use and feature like Instant preview is a great help while editing a video. It supports every format and it comes with variety of themes , animations and video-audio effects which makes this video editor amazing.
Download Here
4. PowerDirector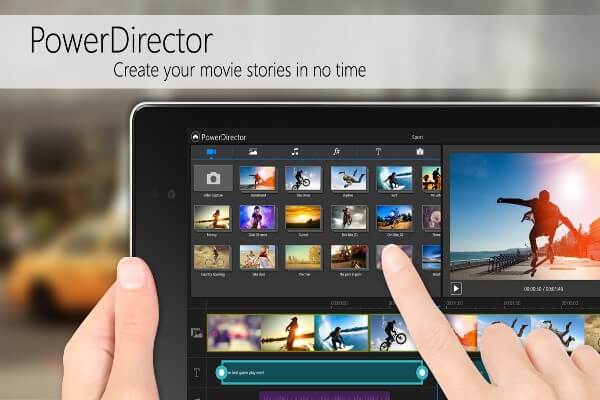 It's a video editor which will bring out the director in you. It has a professional timeline editing interface which will make drag and drop video easily. The audio and video effect is also very good and the effects enhance the video. With few touches, you can flip, split and trim the videos. You can edit your full HD videos without any problem. The slow motion option is great, it gives your video a new touch. Those who have used it on PC will be happy; it gives familiar interface on your Android device.
Download Here
5. Cute Cut
Cute Cut is a smart video editor, it will let you edit and create video without any problem. The best feature of this application is that, it is completely free and there is no watermark. Cute Cut allows you to draw on your videos. The interface id simple, it comes with standard drag and drop layout. You can also merge different format videos. It is very easy to use, you have 30+ drawing tools that you can use to make your video cool. You can also customize your footage with effects, texture, shadows and borders.
6. Video Editor – We Video
Video Editor by We Video is one powerful app for editing videos. It has an easy-to-use storyboard style layout which is very user friendly. The animated interactions will make your video creative. Adding captions and titles are very easy. Once editing is done you can use the app to directly upload it on many social network.
Download Here
7. VidTrim – Video Editor
VidTrim comes with very easy user interface and often considered as best Android Video editing app. The app gives you freedom to grab any frame to edit it out. The trimming video option will let you cut away all the boring moments in your video and will make it more watchable. You can also rip the video's audio into MP3 file.
Download Here
8. Video Editing Android Apps: Adobe Premiere Clip
From the makers of Photoshop, Adobe has launched a video editor for Android. It is hard to ignore the product by Adobe. Making a clip with your images is very easy, you can also choose the soundtrack. The new feature will also let you sync the music to get the beat on your video like a pro. The slow motion feature with different effects will make your homemade video look like professional work. As it is a Adobe product, you can easily open the file in "Adobe Premier Pro CC" on PC for extra polish.
Download Here
9. Insta Shot – Video Editor
This video editor app is simple and fast to use. You can add borders, frames and squares to the video without any problem. It got one touch trim and cut. You can also make a video collage merged with music to give a nice touch to your video. It will let you add many emojis on your video. The effects are limited but very amazing and each effect will make your video look great. It supports GoPro video perfectly. You can edit and directly post the video on Instagram without any problem.
Download Here
10. Viva Video
One of the most popular video editors on Google Play. You can edit your videos in hundred different way here. You can add dubbing, trip your clip and merge two videos with great transition. The storyboard layout of the app makes it a very user friendly. It's amazing interface and powerful tools make it a great video editor.
Download Here