Let's face it… Who doesn't love a cup of hot coffee? In fact, for most people, coffee is like a warm morning hug that brightens up your day while preparing you for your daily troubles. Although coffee helps us to stay caffeinated, it has one big disadvantage that we cannot leave unmentioned: it lacks nutrients. Although it is rich in antioxidants and vitamin B2, this royal drink lacks a nutritional standpoint.
Because of this factor, it has become necessary to add coconut oil to the recipe to transform this royal drink into an energy-boosting superfood, packed with essential micronutrients that benefit the body in many ways.
Also read: 10 Health Benefits of Matcha Tea
What is coconut oil coffee?
The idea of mixing coconut oil with coffee was pushed by Dave Asprey after the creation of "bullet-proof coffee". This recipe was created by mixing a special brand of coffee beans with unsalted butter and a special oil called "Brain Octane".
Because of its nutritional value and numerous health benefits, bullet-proof coffee gained widespread recognition among many professionals, entrepreneurs and sportsmen. As this branded product was quite expensive, a homemade remedy (mixing coconut oil with coffee) was discovered as a cheaper alternative for coffee enthusiasts who could not afford the former brand.
So let's get down to business.
How do you make coconut oil coffee?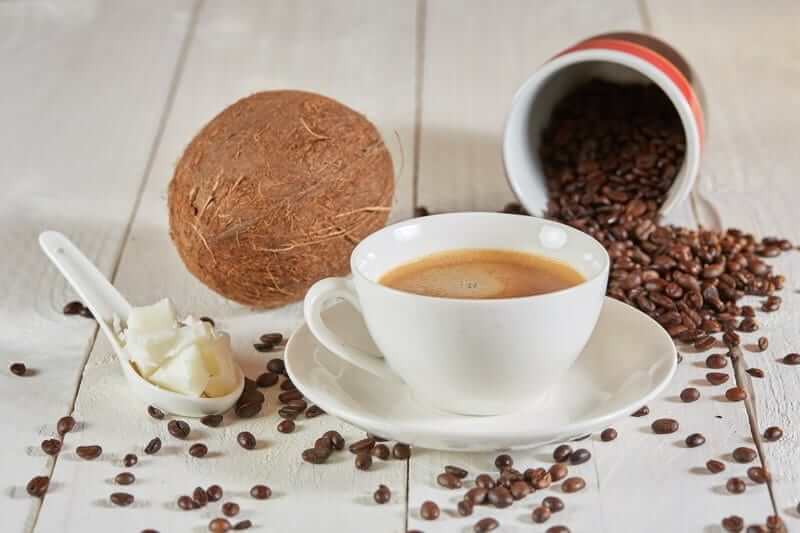 The process of making coconut oil coffee is quite simple because you have to boil or rather brew the coffee in a normal way. When you are ready, pour the coffee into a blender and add one or two tablespoons of coconut oil. Mix the brew to lighten it. You can add any flavor of your choice (sugar and vanilla essence) to make the coffee richer. It really is that simple!
You might be wondering what the best coconut oil to use is? It all depends on your choice and what you can afford. But the best coconut oil is Virgin Coconut Oil, which is made from fresh coconut milk. If you can't find this brand, you can choose the chemically treated/processed coconut oils that are available on most supermarket shelves.
Let's now look at seven positive health effects of adding coconut oil coffee to your daily recipe.
Health benefits of adding coconut oil in your coffee
1. Increases metabolism
Coconut oil is a kind of "thermogenic" food that increases your energy levels after consumption. This means that the consumption of one or two tablespoons helps to increase your metabolic rate and burn more fat than normal.
On the other hand, it has been documented that coffee has similar metabolic effects. When the two are combined, the metabolic rate is generally increased, leading to a noticeable effect.
2. Aids in digestion
Most of us experience a rumbling effect when we drink a cup of coffee. This is actually the stimulating effect of coffee, where it stimulates the colon and muscles to give them an extra boost during digestion.
Most importantly, coconut oil acts as a natural laxative, lubricating the digestive system to increase the peristaltic movement as the stool is moved through the colon.
3. Regulates your blood sugar
Insulin helps to control blood sugar levels. Most foods we eat trigger insulin, which causes your sugar levels to drop and rise (leading to cravings and other symptoms). Coffee with coconut oil does not affect your blood sugar levels. The fact is that it binds with body cells to strengthen insulin for a more advanced blood sugar regulation process.
4. Boosts cognitive ability
Most people cannot start their day without drinking a cup of hot coffee. All this is thanks to the caffeine in coffee, which increases mental alertness. Surprisingly, coconut oil is thought to have similar effects on your brain performance.
Combining the two, it is believed that the resulting coconut oil coffee raises the ketone levels in the brain to improve cognitive functions.
5. Helps to lower appetite
Both coffee and coconut oil have an appetite suppressant effect, which leads to eating less. In addition to its calorie-burning effect, coconut oil coffee tends to create a feeling of satiety, which eliminates the habit of snacking and overeating.
What happens is that special ketone bodies are produced by the liver to curb your appetite, resulting in an appetite suppressant effect.
6. Gives you an energy boost
The caffeine you take in your daily cup of coffee has an energizing effect and ensures that you feel cool and cheerful as you start the morning. On the other hand, coconut oil contains medium-chain fatty acids that are converted into energy and provide your body with the amount of energy it needs for various workouts.
But here is the interesting thing, medium chain fatty acids are very different from long chain fatty acids. While long-chain fatty acids are converted into fats for storage (in the body), medium-chain fatty acids are sent directly to the liver, where they are converted into energy that supports metabolism. This energy gives your body an energy boost that is essential for athletes.
7. Fights infections
Finally, thanks to the presence of lauric acid and fatty acids, coconut oil coffee has the power to fight bacteria and infections. It has been discovered that lauric acid has antimicrobial effects on most bacteria and organisms. In general, fatty acids have been discovered to treat fungal infections such as Candida, Staphylococcus and Aureus.
The controversy
Although we have mentioned the many health benefits of coconut oil coffee, there are a few points that we have found wise to mention. As far as we all enjoy the pleasure of drinking coconut oil coffee, there are a few points that you should be concerned about and consider.
1. High in calories
Although coconut oil coffee helps to suppress the appetite, coconut oil is still a fat, which means it contains many calories. If you consume this superfood in an uncontrolled way, there is a chance that you could gain weight much faster than you think.
2. Rich in saturated fats
Coconut oil coffee has many advantages, but it is rich in saturated fats, which are considered quite dangerous. Eating diets high in saturated fats can increase the cholesterol level in your blood, putting you at high risk of having a heart attack or stroke.
Conclusion
All in all, I would like to ask a question: Is it a good idea to have coconut oil coffee? Just to give my personal opinion: taking this superfood boost in moderation might be the best strategy instead of taking it daily.
Despite the many health benefits, we have seen that this superfood is associated with some controversies that cannot be ignored. To be on the safe side, make sure that you consume this brew responsibly to avoid the bad negative effects.
Author Bio: This post was purely written by Pure It Fresh. With the help of our productive team of experts, our website prides itself on being one of the best at researching and writing detailed reviews and guides on small appliances and the best hot and cold drinks. Through our writings, we have been able to save most avid readers both time and stress when they have to figure out exactly what to buy.