Are you thinking about traveling abroad for the wedding of your dreams? There are so many destinations to choose from, and we can understand why you might have trouble finding the perfect destination for you.
One of the most popular wedding destinations at the moment is Mykonos, one of the most beautiful Greek islands. Here we will tell you some of the reasons why Mykonos is the perfect wedding destination for you. Read on to learn more about them.
6 Reasons Mykonos Is The Perfect Wedding Destination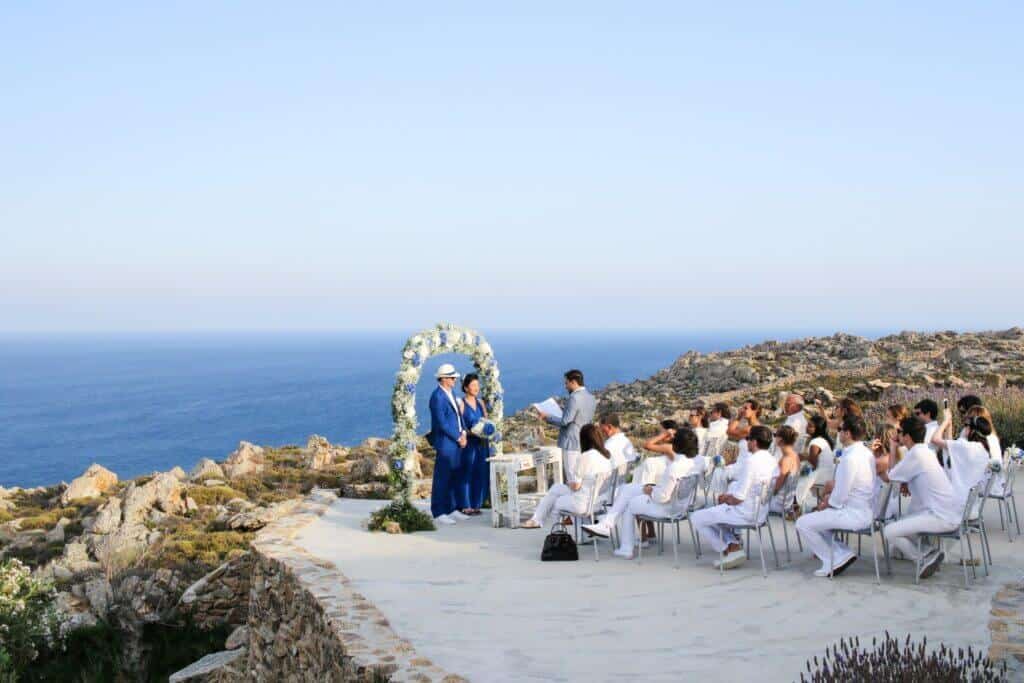 1. Memorable Photographs
Your wedding photos are among the most important photos you will get in your whole life. These are the photos you look back on and which you will show your children. For this reason, you will want to choose a place that is good for photographs and Mykonos is perfect for this. Imagine the pictures of the happy couple on the beach, ready to start their new life! Your photos will look fantastic and you might even be able to take one at golden hour.
2. Beautiful Venues
One of the great things about a wedding in Mykonos is that the venues are truly spectacular. It is easy to book a wedding in Mykonos because you can have it on the beach or in an impressive villa large enough to host the entire ceremony and reception there. BlueVillas wedding options include some of the great villas that you can rent for the duration of your stay.
You can even rent another villa for your friends and family to stay in while they are there for the big day!
3. Top Cuisine
Are you a fan of the incredible Greek cuisine? If you are celebrating your wedding in Mykonos, you can let yourself be pampered by some top chefs and taste the flavors of this island. Greek cuisine is known the world over for being very tasty and it can be the perfect meal for a wedding on the beach or in a villa. Think of how your guests will enjoy authentic Greek salads and especially souvlaki. They will love the food and you will be able to sit back and relax while everything is prepared for you.
4. Start The Honeymoon Early
Once you are married, you can enjoy your honeymoon right away. One of the best places for honeymooning is Mykonos, which is perfect because you will already be there after your wedding. This means that you can start your honeymoon right away while all your friends and family fly back home.
The great thing about Mykonos is that it is located next to so many other beautiful Greek islands. This means that you can go island hopping with your new husband or wife right after the wedding. Why stop in Mykonos when you can visit places like Santorini or Crete?
5. Hot Weather
The most obvious reason why Mykonos is the perfect wedding destination is of course the guaranteed hot weather. If you are celebrating your wedding in the United Kingdom, it can be risky to go outside without it raining. If you celebrate your wedding in Mykonos, you can enjoy the sun and take your pictures outside on the beach.
You can find online a guide with the best times to visit Mykonos, so be sure to check it out. You will not want to go at the hottest time as this could affect your entire wedding day and the look you are aiming for.
6. Pre-Wedding Rituals
Finally, you will find that Mykonos is the perfect wedding destination as it is suitable for both the wedding and the pre-wedding rituals such as the hen party. You don't need to jet off to a foreign country for these exciting events, you can celebrate the whole thing in Mykonos. This place has numerous bars and clubs that are perfect for this type of event, and your friends and family will enjoy having a cocktail with you.
In addition, you will save some money as your family and friends will already be there!
Final Verdict
There are many reasons why Mykonos is the perfect wedding destination, so it makes perfect sense to book your big day on this island. Think of all the amazing photos you will take with your partner and relatives. Plus, you will get first-class food and enjoy the hot weather both before and after the wedding.
If you are planning to get married in the next few years, you should consider Mykonos for your big day. This will be the trip of a lifetime and you will return home as a married couple.
Read Next: 20 American Customs That May Be Offensive In Other Countries