For strange reasons, humans seem to be wildly fascinated with the unknown. If it's any proof, notice the current surge of horror movies springing up on cinemas everywhere. From stories of undead children and serial killers to cursed dolls and haunted homes, these films are being watched over and over by young and old alike.
Though at times (well, always) scary, it has never stopped people from exploring things beyond the grave. Does afterlife really exist?  What about ghosts? Check out this list of 20 Creepy Photos That Might Make You Believe in Life after Death, and see for yourself if they're real. Word of warning, however: This is not for the faint-hearted.
ALSO READ: Rare Historical Photos You Have Never Seen Before
20 Creepy Photos That Might Make You Believe In Life after Death
1. The Cooper Family Hanging Ghost
This picture has been shrouded in mystery for a few decades now. Taken in the 1950's, the photo shows a happy family of four… with a little extra on the side. Apparently, the father who took this picture didn't only photograph mom, grandma, and the two kids.
After the picture was developed, they were horrified to see a "body" hanging upside down or falling beside them. Who is this man? Was he a former tenant of their new home? Why the "face" is blurred is another mystery.
2. The "Brown Lady" of Raynham Hall
This photo was reportedly taken on September 19, 1936 by Captain Hubert C. Provand, a photographer based in London who works for Country Life Magazine. Raynham Hall in Norfolk, England was known to be haunted by Lady Dorothy Townshend, who passed away in 1726.
Lady Townshend is said to be one of the most famous ghosts in England, with this shot being one of the most reputable ghost photographs ever captured.
3. The Bed-Ridden Boy
Taken at the Historic Worley B&B Inn in 1999 by a professional, these photos were stashed away for about four years. In 2003, while the staff of the said inn were looking at the images, they saw a blur on the picture. One employee noted that the blur resembled that of a ghostly figure lying on the bed.
The Inn believes that this ghost belongs to Claude Worley, a teenage boy who died in the 1800's after being hit by a train. He reportedly passed away inside the house. See any resemblance? Or is it really just a processing error? You decide.
4. Grandfather Ghost
You've heard it all before: nothing lasts forever, not even love. But take a look at this photo and see if that is still the case. According to the source, Denise Russel, the grandma in this photo lived on her own until she was 94, and due to her failing health, she had to be moved to an assisted living home.
On August 17, 1997, a Sunday, the nursing home had a little celebration which involved a small picnic for the residents and their families. She (Russel) took some pictures, but it wasn't until Christmas Day of 2000 when they noticed something strange about the photo (her grandma has since passed away).
The picture shows a man standing behind her grandmother, a man who eerily looks a lot like their grandfather who passed away on August 14, 1984, also a Sunday. Talk about love that goes beyond the grave.
5. Queensland Ghost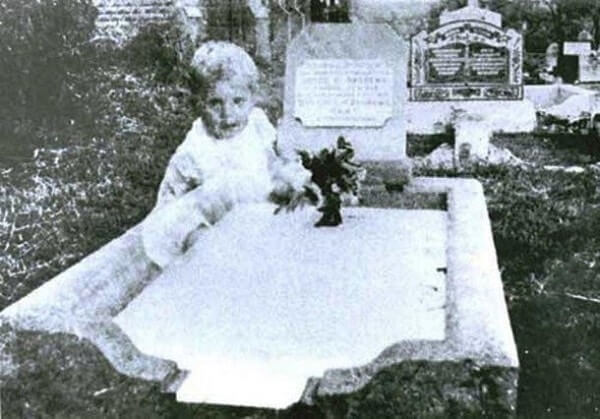 In 1946, a certain Mrs. Andrews, a mother who recently lost her little girl, wanted to honor the memory of her daughter by visiting the latter's grave and taking some photos.
After she had it developed, she was aghast to see this little girl. She said she had no idea who the child was. She also had experts look at her photo, who ruled out double exposure. Reportedly, the cemetery had a number of graves belonging to infants nearby.