Are you planning to host a business seminar, company picnic, awards gala, or a holiday party? If so, the most critical factor for the success of your corporate event is catering. Engage an efficient, corporate catering service with an adequate fleet of mobile kitchens and assets to prepare your preferred freshly-cooked meals on site, regardless of the size of your group. An onsite, corporate catering service doesn't just bring food to your event; it brings the kitchen and the chefs as well.
Choosing a corporate catering company that understands the key requirements of your event can be an uphill task. Always ask for references and see how many happy bellies have benefited from their service. A good caterer should be committed to your mission and precisely coordinate the catering needs from start to finish.
The caterer should come with a team of trained, passionate culinary experts. Expect creative planning, exceptional cuisine, artistic presentation, and excellent customer service. Depending on your budget, goals, and venue, a good corporate caterer will craft a unique menu that satisfies your audience through black-tie seated dinner or gourmet boxed lunches, whatever your preference is.
Why Bring in a Private Chef?
Corporate catering is evolving with the introduction of the new concept of corporate catering by private chefs. When you hire the catering service for your event, you get a passionate, private chef, who is hungry to craft unique menus showcasing his or her talents. Whether serving finger foods and canapés, corporate buffets, grazing tables, or seminar foods, you can work with your private chef to create a lasting impression for your corporate event.
Additionally, the private chef will coordinate the whole process from food preparation through clean-up. You can easily customize the menu with your private chef and create a dining experience that suits your specific needs and preferences.
Getting a fully furnished kitchen can be challenging for a corporate event. A full-scale catering service comes with a complete mobile kitchen and culinary equipment. If you need decorations, they can be put up, then taken down after the event. Catering is just one part of organizing a larger event, so choosing a full-scale catering service can make things run smoothly.
When Do You Need a Corporate Catering Service?
Corporate catering by private chefs is appropriate for many types of events, such as: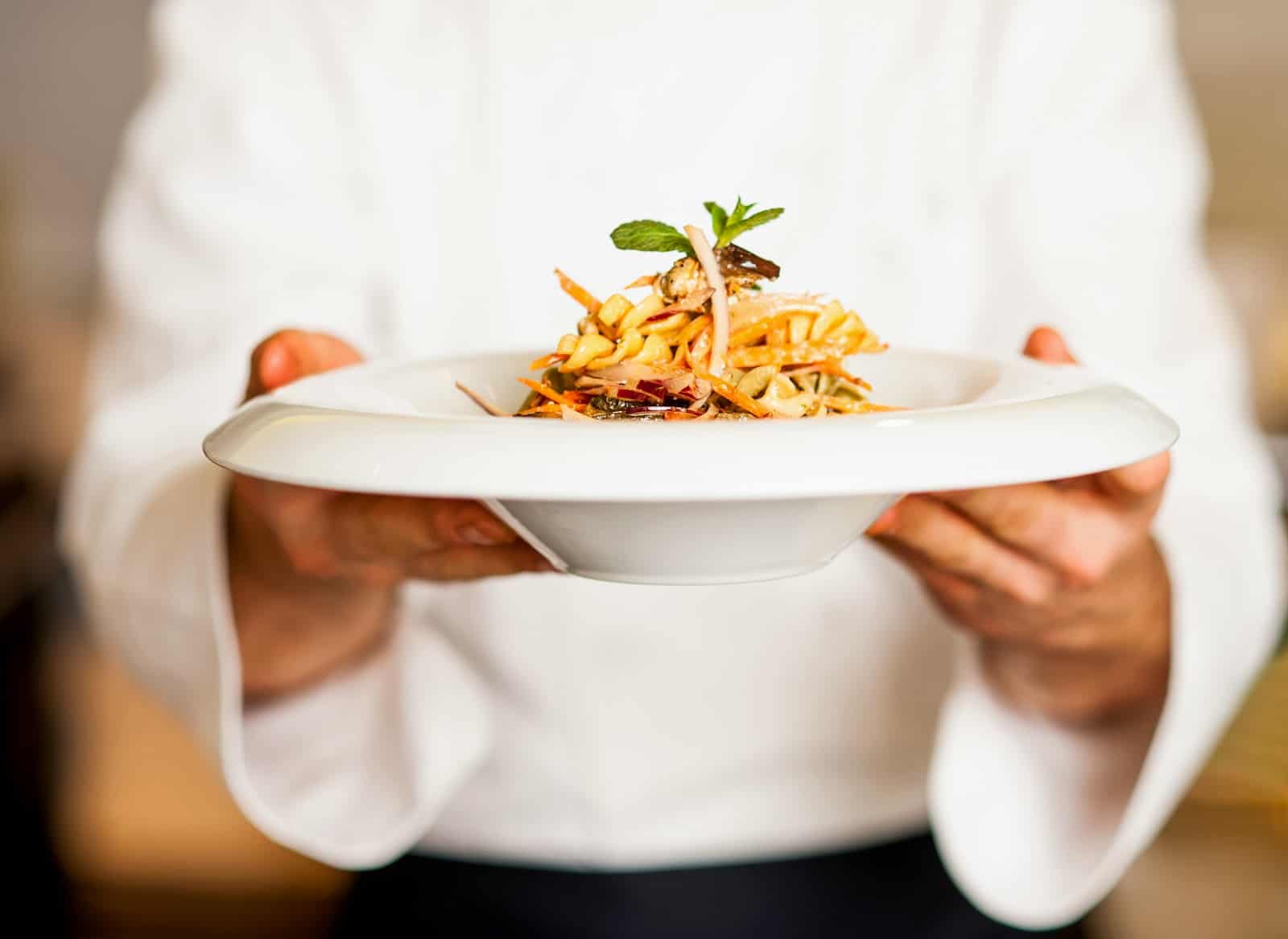 Company Gatherings or Executive Meetings
Company gatherings are often detail-oriented and budget-conscious. A corporate catering service can help you create a superb and professional dining experience that will impress your employees, clients, or business associates. Whether it's a modest meeting of ten people or a departmental luncheon of more than 100 people, a corporate catering firm will deliver impeccable service that surpasses your company's expectations.
Themed Events and Holiday Parties
Let a professional corporate catering company address your specific needs and create a memorable moment during a holiday event. Be it a uniquely themed event or a holiday party, a private chef will customize every aspect of your menu to fit the occasion. Working with your private chef is fun, as you and the chef craft a menu that wows your group. You gain time to focus on enjoying your festivities, rather than overseeing food preparation.
Fundraising Events and Banquets
Successfully planning and coordinating a banquet or a fundraising event takes a lot of time. The meticulous details going into a big event are enormous. Allow your private chef to personalize and execute your catering needs as you focus your time and energy on the main event. The chef will analyze your budget and expectations for the day and craft a customized dining experience.
Business Lunches and Seminars
Business training classes are critical to the growth of any organization. The top priority should be to create a comfortable learning environment. Catering plays a major role in that. You need a personalized, low-key catering service that suits your budget and expectations.
Established corporate caterers own a fleet of mobile kitchen units, cooking equipment, and trucks to transport fresh food products to your event venue. Seek versatility and flexibility by hiring a private chef and catering service. 
Whenever you are hosting a corporate event, get an experienced corporate chef who can work with your staff hand-in-hand to create restaurant-quality meals in the comfort of your venue. Whether planning an executive dinner for five or an awards gala for the entire company, corporate catering services will provide an experienced chef, kitchen, cutlery/crockery, and wait staff.
Read Next: 26 Smart Ways To Eat Healthy On A Budget