A wedding can rightly be described as the union of two souls and is a great occasion that is attended by large numbers of guests to bless the couple. When a celebration is involved, a cake is considered important, something that is traditional and has been used for all occasions for centuries. The celebration seems rather incomplete without the couple cutting the wedding cake. Whether it is a wedding, graduation, or birthday party, etc., all types of celebrations require a cake that becomes an integral part of the event.
When people become part of such celebrations, they expect at least a piece of the cake to be cut. Celebrity weddings have always been in the spotlight for a variety of reasons including the food, the star-studded guest list, the decoration, the venue, and most importantly, the cake.
Below are some of the best wedding cakes from celebrities which are said to have simply stolen the show.
Best Celebrity Wedding Cakes
1. Faryal Makhdoom & Amir Khan:
Faryal Makhdoom and Amir Khan, the popular Asian boxing champion, got married and are said to have ordered a five-layer cake for their wedding ceremony, which was really gorgeous to look at and delicious. With these delightful looks, you can expect it to have been completely delicious as well as interesting!
2. Norway's Mette-Marit and Prince Haakon:
It was a royal celebrity cake that they ordered for their wedding event, and it was a magnificent and outstanding cake with seven tiers that was simply fascinating. It was definitely one of the most talked about cakes. It was made of vanilla and was an absolute beauty. If you look closer, the gigantic building was surrounded by small cupcakes that were just as delicious and great. The cupcakes had a vanilla taste and contained pineapple.
3. Katie Holmes and Tom Cruise:
This Hollywood wedding cake was beautiful and simple with five layers of white chocolate. But this cake simply managed to captivate all the guests and was really fantastic!
4. Kris Humphries & Kim Kadarshian: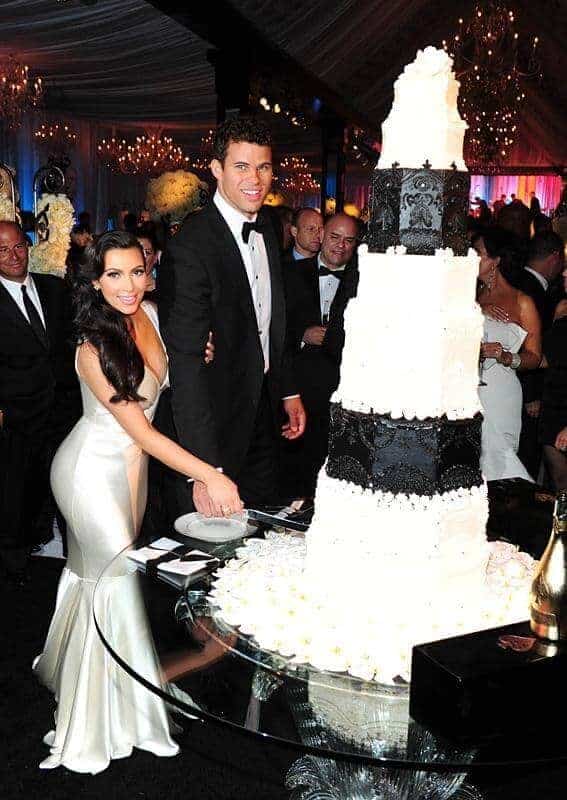 Kim Kadarshian was first Mrs. Kris Humphries before becoming Mrs. Kanye West. Guests at this celebrity wedding were served a magnificent and delicious butterscotch-flavored cake, covered in pieces of dark chocolate. It was wonderful and had 9 layers!
5. Ayush Sharma and Arpita Khan:
Everything connected with this wedding was felt to be gigantic. The cake weighed about 150 kg and consisted of 6 layers. The lower layers contained attractive gold-coloured biscuits, flowers in the second layer, smaller gold-coloured biscuits in the middle layer, pistachio-coloured biscuits in the fourth layer, a gold column in the fifth layer and finally a ball was formed from the material that appeared as dried fruit in the sixth layer. The whole cake looked really delicious and was gigantic!
6. Priscilla Beaulieu & Elvis Presley:
It is a delicious vanilla cake with cherries, created especially for the King and Queen. When looking closer at the 5th layer of the cake, the names of the two couples could be seen engraved. This was very similar to the melodies of Elvis himself, which are engraved into the memories of the people.
All the above-mentioned cakes looked good and gorgeous. At the same time, they tasted delicious and were almost certainly well-enjoyed by the guests. So, what are you waiting for? You can also order one of these cakes for your occasion or wedding day and turn the moment into a splendid one.
Read Next: 4 Best Way To Prep For A Kitchen Renovation