The wedding can be rightly termed as the unison of two souls and is a grand occasion that is visited by guests in huge numbers to bless the couple. When a celebration is concerned, the cake is considered to be an important one, something that is traditional and is being used for ages for all occasions. The celebration rather seems to be incomplete without the couple cutting the wedding cakes. Be it a wedding, graduation or a birthday party, etc. all kinds of celebrations do require a cake, which has rather become a part and parcel of almost every occasion and event.
When people become part of such celebrations, they do expect at least a piece of the cake that is being cut. Celeb weddings have always been in the limelight for various reasons such as the food, the star-studded guest-list, decor, venue and most importantly cakes.
Given below are a few of the Best Celebrity Wedding Cakes which is said to have simply stolen the show.
Best Celebrity Wedding Cakes
1. Faryal Makhdoom & Amir Khan:
Faryal Makhdoom and Amir Khan the popular Asian Boxing champion got married and were said to have ordered a five layered cake for their wedding ceremony that was really gorgeous to look at and delicious. With those delightful looks, one can expect it to have been tastier and interesting!
2. Norway's Mette-Marit and Prince Haakon:
It was a royal celebrity cake that they had ordered for their wedding event and it was a magnificent and towering 7 storied one that was simply mesmerizing. It was definitely amongst the most discussed cakes. It was made of vanilla and was an absolute beauty. If a closer look is taken, then the gigantic structure was surrounded by small cupcakes, which were equally delicious and great looking. The cupcakes were of vanilla flavor having pineapple in them.
3. Katie Holmes and Tom Cruise:
The Hollywood wedding cake was beautiful and simple with five layers created from white chocolate. This cake although simply managed to mesmerize all the guests and was really awesome!
4. Kris Humphries & Kim Kadarshian: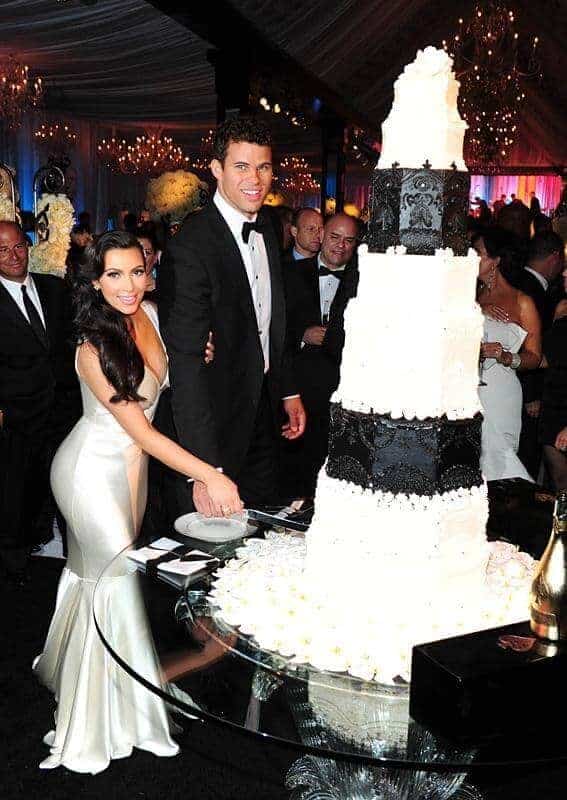 Kim Kadarshian was first Mrs. Kris Humphries before she went on to become Mrs. Kanye West. Guests at this celebrity wedding were served with a magnificent and delicious butterscotch flavored cake having dark chocolate topping in bits. It was wonderful and had a whopping 9 layers in it!
5. Ayush Sharma and Arpita Khan:
Everything associated with this wedding was found to be humongous. The cake weighed about 150 kg and was made of 6 layers. Its bottom layers had attractive gold colored biscuits, flowers in the second layer, smaller biscuits of gold color in the middle layer, pista colored biscuits in the 4th layer, gold column in the 5th layer and finally, a ball was created from stuff which appeared as dry fruits in the 6th layer. The entire cake was really delicious looking and gigantic!
6. Priscilla Beaulieu & Elvis Presley:
It is a magnificent vanilla cake that had cherries in it and was created specifically for the King as well as Queen. The closer look of cake's 5th layer closely had the couple names etched on it. This was very much similar to the tunes of kings who get etched into people's memories. Wedding and wedding anniversary cakes have become the talk of the town which is chosen carefully by the celebrities to get the maximum media coverage.
All of the cakes that have been mentioned above did appear fine and magnificent. At the same time, they definitely did taste delicious and were sure to have been enjoyed by the guests. So, what are you waiting, you can also order one of these cakes for your wedding or wedding anniversary and make the moment grandeur.
Read Next: 4 Best Way To Prep For A Kitchen Renovation