Dogs are not only pets, they are a man's best companion, a man's best friend and more than just a family member. When you have a dog in the house, you feel safe and complete. There are many breeds of dogs that exist all over the world. But do you know which are the sweetest breeds of dogs you must own? Let's take a look at the breeds that are overloaded with cuteness.
English Bulldog
These bulldogs are really fat, wrinkled and stocky puppies that can melt any human being. They are one of those breeds that can make people stop in their tracks. These are the reasons why these Bulldogs are so famous on greeting cards and also on print ads.
Golden Retriever
No. 2 on the list are the Golden Retrievers. These golden puppies can make anyone smile. Golden Retrievers are massively used in many commercials and it is no secret why these puppies are irresistible.
Labrador Retriever
This is the other important dog breed that gets a lot of airtime. We all know the reason for this; it's that roly-poly and sweet face that could sell anything.
Corgi
No. 4 on the list is the Corgi, with her little legs and ears. Corgis are extremely lovable. I bet you'll fall in love with one right away.
French Bulldog
Like the pug and the English Bulldog, the Frenchie's flat face has something endearing about it. Just connect it with the two big ears and you have one of the sweetest puppies ever.
Pomeranian
The Pomeranian race looks more like a teddy bear. Their tiny ears, round eyes, and fluffy fur make it almost impossible not to lift them up and cuddle them in your arms.
Cavalier King Charles Spaniel
These are the dogs that were born to give their owner a sad look. They are so cute that you cannot resist their face and you will be compelled to carry and cuddle them.
Saint Bernard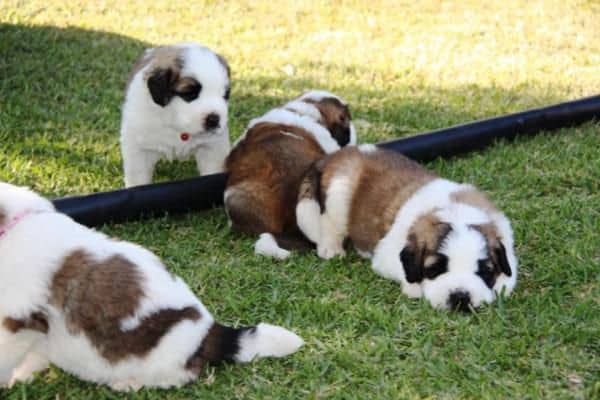 The large paws, which are covered with the extra soft fur, are the reason why the St. Bernard is one of the sweetest dog breeds of all. They also have the sad eyes, but you don't have to worry: these eyes are not made to make you sad, but are made for you to cuddle them on your lap.
Basset Hound
Basset Hound are puppies that have everything you could wish for in a puppy. Tons of loose skin, short and wrinkled legs and of course those sad eyes. Apart from these small characteristics, a unique feature of the Basset Hound is that he has very huge ears that you can't resist.
Also Read: Dog Trouble: What Can I Give My Dog For Pain?
Pug
These pugs may look a bit unconventional to you, but you can't help them but smile when you see the pug puppy. With their eyes, curly tail, and cuddly face, they will melt your heart.
These are the best and sweetest puppy breeds that everyone must have at least once in their life.