In a country like India that faces extreme summers, cooling devices become essential, especially in the warmer months. While there are a bunch of different options available in the market, each one with its own sets of advantages and disadvantages, the practicality and cost-effectiveness of fans make them a popular choice.
There are different types of fans available, and each one is suitable for a different setting. The ceiling fan, for example, is one of the most popular types of fans that can be used in almost every kind of setting. Aside from a ceiling fan, another popular type of fan that is commonly found in Indian homes is the table fan. Table fans are portable cooling devices that can be placed on any surface, like a shelf or a table. All they need is a power outlet, and they are ready to supply a pleasant breeze. 
While both the online and the offline markets are flooded with a range of table fans, shopping from both these platforms have their own set of pros and cons. Let's look at them in detail.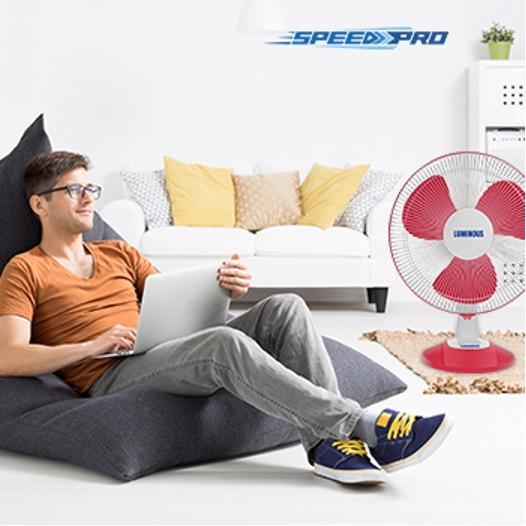 Pros of Buying Table Fans Online
Extensive Range
One of the biggest advantages of buying table fans online is that you get to explore an extensive range of options. This allows you to make an informed choice and ensure that you get your hands on some of the best products.
Exciting Deals and Offers
Another great thing about shopping for table fans online is that you get the best deals and offers. Online stores are known for offering some of the best deals on products, allowing you to get the best value for your money.
Convenient and Hassle-Free
Needless to say, online shopping is convenient, hassle-free, and perfectly suitable for the fast-paced life of today. When you shop for table fans online, you'll get your favourite products delivered straight to your doorstep, allowing you to avoid wasting time going from one store to another in search of the right table fan. 
Easy Returns and Exchanges
The easy return and exchange policies offered by online stores have made online shopping even more convenient. This way, you can return or exchange your product on the off chance that you're unsatisfied with your purchase, giving you complete freedom and security of a satisfactory purchase.
Cons of Buying Table Fans Online
The only drawback to buying table fans or any product online is that you can't experience the product before buying it. This can sometimes get you stuck with a product that does not meet your expectations.
However, the easy return and exchange policies offered by leading online retailers have helped solve this problem and made it possible to shop online without any hassles. In addition, this hassle can also be avoided by opting for reliable brands that offer excellent quality products that work efficiently and last longer. When you shop for table fans from reputable home electric brands, you can rest assured that you'll get your hands on the high quality, durable products that will meet your expectations.
One such brand is Luminous. Luminous has made its mark in the market by providing some of the best home electrical products including table fans, LED lights, and ceiling fans to name a few. Luminous products are known for offering the high-quality and durability, making it one of the most sought after home electrical brands in the market. In addition, the after-sales services provided by Luminous makes sure that you get a hassle-free and seamless shopping experience. 
So, if you're on the lookout for some excellent table fans for your homes, make sure to check out the Luminous website today!