The Android market has recently shifted gears and developed extraordinary apps for children to provide them with education, innovation, and fun with their Android phones. Surprisingly, the Android Market offers more than 3,000 kids apps for free download. There is a lot to download, but downloading junk apps is pointless. That's why we've put together a list of the best free Android apps for kids, just in case you're headed in that direction.
These apps are designed with a fantastic interface to make them compelling for kids. Take a look at the apps, read about the features and concepts, and find out what works best for your kids.
Free Android Apps For Kids: For Learning And Innovating Kids
These Android apps for kids are designed to enable young children to explore new things while learning. For children in the modern era, these apps are a great way to start learning through fun. Below is a list of free apps for kids designed specifically for learning.
Toddler & Baby Animated Puzzle

This free app for children is designed to support the essential early development of skills. This interactive app will be loved by toddlers and parents alike. This app is perfect for entertaining children and helping them learn and explore.
Features of the free app
Let's Play: Beat the drum with the simple tap to play the game and wind the jack-in-the-box.
Let's Eat: The animals' preferred food is revealed on contact and is good for eye-hand coordination.
Features of the paid app
Let's go: Children can travel on vehicles with animal characters.
Animal sounds: Helps them develop their language skills.
Memory Game

This game is designed to improve your children's concentration and memory and is also a free app designed specifically for children. It is a card puzzle game. This free app for kids will help them develop their critical skills.
A to Z for Kids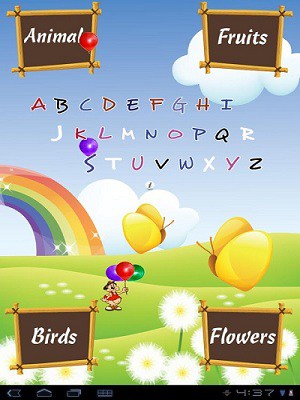 A to Z is a free Android app for kids that will be useful for exploring the knowledge of infants. This app is full of fun and excitement for toddlers and helps them learn the alphabet with some interactive features. It also includes some useful features like bird and animal watching, recognizing animal sounds, and much more.
Princess Scratch For Kids Free

This exclusive free Android app for kids combines three games in one! With the Princess Scratcher, your kids will discover great pictures by simply 'scratching off' the overlaying colors. Toddlers will love the more than 40 images in this app. Fun and innovation is the theme of this game.
Educational Games for Kids
This free children's app allows toddlers to learn and have fun during their skill-building phase. This is a package of 12 games in one. The children can learn professions through the games. Solving labyrinths, organizing the animals with their noises, guessing the sound of musical instruments, solving puzzles with cool pictures, and music are the eye-catching features of this game.
Download this free Android app for kids HERE.
Learn English Kids: Videos
This cool Android app for kids is a collection of more than 300 collected video clips. This allows children to practice their native language in a natural language environment. This free app captivates children by allowing them to create little animals and much more. This app is equipped with ABC songs, number exercises, coloring, fruit recognition, etc.
Animal Puzzle for Toddlers Kid
Packed with 15 interesting puzzles, this free Android app is an exclusive invitation to fun and learning for kids. Equipped with difficulty levels, colorful animals, and exciting sound, this is a package your kids will love.
Download this free android app for kids HERE.
Math for Kids
Mathematics is one of the big problems that children face in their childhood. Make it easy and fun with this creative and interactive free app. This app for kids is completely free and they don't need a subscription, internet access, or anything else. Just download this app to your Android device and give it to them to play with. This app will help them get started with math.
Download this free android app for kids HERE.
Math Training for Kids
Math training for children is another exciting application for children to play and learn with. Math Training is an interactive platform for learning and adapting math to their lives. With three levels and interactive pictures, your child will have fun with math.
Download this free android app for kids HERE.
Educational magazine for kids
This free magazine allows children to complete certain tasks for fun and makes them excited to get the next task done. This Android app contains creative and interesting tasks for kids to do, which they can bring together using eye-catching pictures. This educational magazine will be useful for developing imagination, logical thinking, attention, communication, and memory.
Download the free android app for kids HERE.
These are the highest rated free Android apps for kids, which are also designed with the goal of educating children to be better people. Don't hesitate to browse them and feel free to suggest more games in the comments below.