It's been almost 3 decades since graphics cards have been in the minds of people and technology lovers. The gaming era has seen huge evolution in graphical interfaces culminating in some of the highest-resolution games we've ever seen. If you're looking for a comprehensive graphics set that gives you complete freedom to play almost any game ever made, the answer would be "GeForce GTX Titan".
The GTX uses 2688 CUDA cores for the GDDR5 video memory (which is clocked at 6000MHz) and a memory interface of 384 bits.
This is one of the best graphics cards for games and immerses you in the gaming world. Everyone should be satisfied with the features of this graphics card, except the price:
GeForce GTX Titan costs $999.99 (according to Amazon pricing)
Apart from the best, the rest seems to be fine for some decent games on your PC. Listed below are some of the best graphics cards for games at a more affordable price. Choose your budget, and then get the graphics card you need for your computer online.
Before we compare graphics cards based on prices, there are certain things you need to decide before you enter an online store.
Guide to Choose Best Graphic Card for Gaming
You can skip this part if you know exactly how to evaluate how good a graphics card is! If you're not sure how to choose a graphics card for games, here are some important tips to keep in mind.
Be Sure About Your Required Memory: 1GB, 2GB or 3GB
Today we can see graphics cards that support 3 GB or more of video memory every day. Even a graphics card at the bottom end is designed to support 2 GB of video memory. If you think that your system would need a 6GB graphics card to run at maximum speed, you are absolutely wrong.
If you use a mid-range computer, your computer will have the best resolution with a 1GB graphics card. Unless you use a computer with a high resolution of 1900×1200 or more and a GPU powerful enough to use the card, any more is unnecessary.
So find out about your required memory and proceed to the next step.
Choose your DDR: Either DDR3 or DDR5
Our recommendation is DDR5 because it has a high speed compared to DDR3 and is better in every aspect. However, DDR2 is obsolete. It is important to buy improved DDR for maximum performance.
Requirements for Installing Graphic Card
When you buy a graphics card for games, you need to be aware of the requirements. These are some basic requirements that your system should have in order to use the card.
Your system motherboard must have a slot for a PCI Express card.
You should be aware of the power supply: your computer must have a power supply of at least 400 watts. Some higher resolution graphics cards require 600W or more.
Best Graphic Cards for Gaming
Now let's look at the best graphics cards for games based on affordability and reliability. We have analyzed the market and listed the best graphics cards based on user ratings. Compare all the graphics cards that are suitable for gaming and choose the one that fits your budget.
Best Graphic Cards for Gaming below $40
If your sole purpose is to find a graphics card for gaming purposes, then it is difficult to find a card that is in this range. However, these cards will allow you to play the games like Half Life 2.0, Counter Strike 1.6, etc. However, newer versions also run on these graphics cards, but only at lower resolutions.
1. ASUS GeForce 210 1GB 64-bit DDR3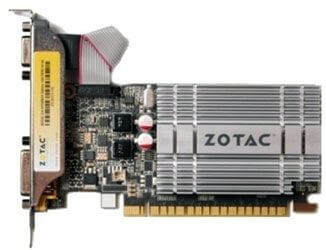 This is one of the cheapest and best graphics cards for games, and if you are looking for an AUSU card, we highly recommend this card.
The chipset: Video Memory of 589MHz, GeForce 210 Engine Clock, DDR3 Memory Clock of 1GB.
Thermal Support: NVIDIA, Microsoft Windows 7.
Resolution: 2560 x 1600 Connectors.
Bus width is 64 bit.
Supports resolution of 2560 x 1600.
Connectors: DVI, HDMI, VGA
2. Nvidia GeForce 210 DDR3
It is a slightly slower graphics card, which is taken into account in the pricing. Only a true Nvidia fan should buy this graphics card, because it is slower than the Intel HD Graphics 3000.
Memory Clock: 500 MHZ & GPU Clock- 520 MHz
Processors and Cores: 16
Bus Width: 64-bit
Bus Standard: PCI Express 2.0
Memory capacity: 1GB
Best Graphic Cards for Gaming under $75
Here is a list of graphics cards sold at a market price of $75 that will improve your system. They are suitable for playing GTA IV, Assassin's Creed and many similar graphics games.
1. Radeon HD 6670 2GB DDR3
Radeon HD 6670 2GB DDR3 replaces the older version and supports modern games that require a reasonable resolution. Impressively, this graphics card is at its best for gaming and allows you to play BioShock Infinite at high settings.
Memory clock: 1600MHz
GPU clock: 800MHz
Recommended power supply: 400w
Ultra-durable cooling system and 100mm cooling fan design.
Supports AMD Eyespeed/Eyefinity/Avivo technology/CrossFire
2. MSI AMD Radeon R6570-MD2GD3/LP Video Card
Like the 6670, the Radeon R6570 is an upgrade on previous versions and offers a reasonable resolution for the games you want to play on your computer. Furthermore, this graphics card has proven to have the lowest power consumption in the Radeon family when gaming. If your budget is less than $75, then this is the best gaming graphics card you can get in online stores.
Even though the Radeon 6570 is one of the lower-end graphic cards, you can still play some graphics-heavy games like Skyrim 3 and Cause 2 on the highest settings.
Video memory: 2GB DDR3
Memory clock: 6570 1334 MHz
Engine clock: 6570 is 650 MHz
Memory interface: 128 bit
PCI Express: 2.1x 16
Pixel Rate: 5200 Mpixels/sec
There you have it. Some of the best graphic cards for gaming; pick one of these graphic cards and start playing your favorite games in high definition. If you have experience with some other cool and affordable graphic cards, comment below. It will be added to the list for readers.