The rumours and speculation about Amazon's idea to launch a phone, which began to spread as early as 2012, finally came to an end when Amazon introduced its brand new "Fire Phone". The price for the Amazon Fire Phone starts at $119 and is currently only available to people in the USA. All eyes are staring at the so-called 3D shopping aspect and the alleged services for mobile phones, which means that not much is known about the hardware specifications. So let's take a quick look at what's inside with a detailed overview.
Amazon Fire Phone Price, Release Date, and Features
Amazon Fire Phone: OS
The Fire Phone is equipped with a forked version of Android, which Amazon intends to call Fire OS 3.5. Basically it is a forked version of Android 4.2.2 Jelly Bean. But the general opinion is that Amazon has made many modifications so that the latest Fire OS in no way looks like Android.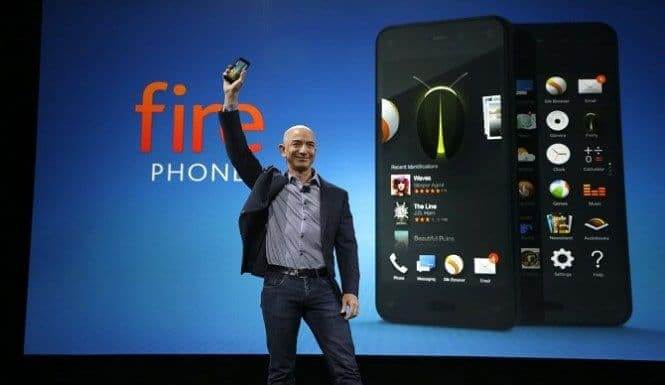 Google services may not even be seen as part of the mobile phone, but there is a chance that you can have them as APKs.
The carousel feature on the device allows you to view recently (and frequently) opened apps, and each app can display some recent notifications. For the App Grid itself, you can arrange the apps in any order you like, you can also add additional things like websites, books and other specific items. It's amazing how Amazon has camouflaged Android once again with its personal interface and services.
According to some reports, "you can switch between the carousel and the App-Grid by pressing the home button".
Amazon Fire Phone: Connectivity
The device supports 3G connectivity, but we also expect 4G connectivity and support for nine bands. The phone supports NFC in addition to GPS with GLONASS and Assisted GPS. Reports indicate that although the phone will support Bluetooth LE, it will not start out with this feature. This means that Amazon may come up with a software update to finally enable the feature. However, there is no news from Amazon as to when this will happen. It's rather disappointing and unconvincing to see that a smartphone with some great features lacks a basic connectivity option that is currently even found in low-cost Android models. The device is Wi-Fi enabled and has support for AC design and it even supports Wi-Fi channel pairing.
Amazon Fire Phone: Display
The fire phone is somewhere between the size of a phone and a tablet, but we don't suspect that this will concern anyone. Just like the Moto X, it has relied unwaveringly on 720p resolution, which gives HD quality to the device's display. That means pixel density all the way up to 315 ppi – that's a decent screen, but not anywhere near an Apple Retina Display. But if you look at the price tag, it's still a pretty good display. The display has a usual contrast of 1000:1 and a brightness ratio of 590 cd/m2. It even has a protective layer of Gorilla Glass 3 for a long life.
Amazon Fire Phone: Processor
The device is equipped with a Snapdragon Quad-Core 800 chipset. It may not be the newest, but it is far enough for this price range. The chipset works at 2.2 GHz and even resists an Adreno 330 CPU. It has 2 GB of RAM memory, which is quite sufficient to process all these services and applications.
Amazon Fire Phone: Camera
Compared to other mobile phones in its price range, the Fire Phone has a primary 13 MP camera and a 2.1 MP front camera for selfie lovers. The company has chosen an f/2.0 lens with a 5e wide aperture along with features such as multi-frame HDR, LED flash, autofocus and optical image stabilisation. Both front and rear cameras can record 1080p HD video at 30 fps.
Amazon Fire Phone: Form Factor
At 8.9 mm thick, the smartphone is neither big nor small. It measures an area of approximately 139.2 mm x 66.5 mm x 8.9 mm for easy adjustment. The handset marks the scale at 160 grams and the Gorilla Glasses on both sides give users a comfortable feel for the phone and also offers exceptional protection.
Amazon Fire Phone: Storage
The fire telephone is available in two versions, 32 GB and 64 GB. As a bonus for all Amazon content and to store images taken with the phone, Amazon has also added free cloud storage.
Amazon Fire Phone: Sensors
This smartphone is not lacking in sensors. It is equipped with a barometer, accelerometer, proximity sensor, gyroscope, ambient light sensor and magnetometer. It even has the Dynamic Perspective sensor function with an invisible infrared beam.
Amazon Fire Phone: Battery
The fire phone is powered by a 2400mAh Li-Ion battery, enabling a talk time of up to 22 hours and a standby time of 285 hours. The handset can play up to 65 hours of audio and 11 hours of video.
Wrap-up
The Amazon fire phone does not offer the best specifications for a gadget in this price range. On the contrary, its AT&T exclusivity also limits its range. However, Amazon is focusing on the gesture-driven aspects with Dynamic Perspective and the numerous Amazon services that cover the new music service Prime Music, which the company plans to offer together with the smartphone.
On paper it seems like a pretty decent package, but let's sit back and see if the elaborate features can keep up with the device's mediocre performance.