The evolution of civilizations has greatly changed the Earth and the way people live. They say "Only change is constant," but there is one fundamental aspect of our origins and behavior that has persisted among the strangest situations known to mankind – humanity. By definition, humanity is a collective concept of goodwill, compassion, kindness, generosity, and magnanimity. Well, I would like to elaborate on the word "humanity" as an abstract entity that has the potential to shape itself into vivid forms to show the best that humans can offer all species on this planet at the most crucial times.
This article was written to illustrate such events in history when humanity triumphed over all other existing emotions and situations.
10 Good Things To Restore Faith In Humanity
1. When humanity warms up the chill of war
December 1914 – First Christmas of the First World War
Wars have not brought anything good to people in any century or corner of the world. The First World War was a time of hostility between countries, and all you could reasonably expect was the darkness of manslaughter. On such a terrible night, a light of compassion came on as the soldiers of the British and German forces reached out to greet each other, exchange gifts, and put aside their hostilities. It was the eve of Christmas 1914, the first Christmas of the First World War. The war did not become any less deadly thereafter, but the incident was certainly a prime example of the human spirit.
2. Saving fellows from a different race
Chiune Sugihara – Holocaust of 1940s
Chiune Sugihara was a Japanese diplomat who was sent to Germany in the 1940s. There were countless Jews who wanted to flee the Nazi nation in order to escape being sent to concentration camps. Sugihara issued the Jews with a large number of work visas until the last day of his service. He and his wife Yukiko were honored with the title "Righteous Gentiles" for their selfless rescue efforts during the Holocaust. The lives of their families, their careers, and their livelihoods were at risk as they saved the lives of thousands of Jews.
3. Co-operation during Natural Disasters
We have exploited this planet so much that the possibilities of natural disasters such as floods, earthquakes, tsunamis, etc. have increased a hundred times over in recent years. Whenever any part of the earth is struck by a devastating natural disaster, we can see the most beautiful face of sympathy and kindness. Not only the rescue teams but also ordinary people help to restore peace and order. Some incidents can give us a negative feeling about human progress. But natural disasters are like divine interventions that will restore our faith in humanity when we see so much brotherhood around us.
4. Educating people in rural areas
If you thought that humanity is limited only to benevolent actions in wars and natural disasters, you might want to think again. Humanity is not an emotion or a momentary act, but also a way of life.
In this egocentric world, everyone wants to be rich and famous. But there are souls who have dedicated their whole lives to educating people who live in the deepest corners of the world. We may rarely know their names, but they have made an enormous contribution to the betterment of society.
5. Healthcare to the underprivileged souls
There are people in the world who are not only sensitive to the plight of the oppressed, but who will act and work in the same direction. I do not need to tell you much about such a person, Mother Teresa. Through her actions and the help of her fellow missionary sisters, healthcare facilities were made available to the poorest of the poor. At present, countless missionaries are working to help sick people without expecting anything in return.
6. Anti-racist activities
Racism is the worst disease that has infected the logic and intellectuality of humanity. It has repressed the greatest dream in history. But then there were people like Nelson Mandela and the American President John. F. Kennedy, who propagated human rights. The President's inaugural address inspired a black citizen, James Howard Meredith, to become the face of an anti-racist revolution and the first black student ever to attend college. Although there were people who obstructed this idea, there were others who greeted it with cheers. The equality we see today is a fruit of the combined efforts of many.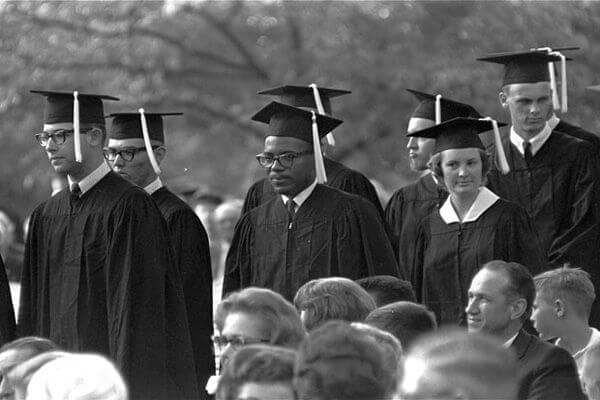 7. People rescuing animals
The world belongs to animals as much as it belongs to us. Now and then we hear from people who prove this. When you see a person who saves an animal and risks his own life, you have to believe that humanity exists.
8. Helping the aged
There are people who take time off their busy schedules to take care of the elderly. In the twilight of their life, a person just needs someone to listen to them and spend time with them. When you meet such people who dedicate their time to the elderly, never forget to say a few words of appreciation.
9. Food to the homeless and needy
Sometimes we are so busy with our celebrations and our prosperity that we take no notice of the people who go to sleep with an empty stomach. On the other hand, there are people who have been running food banks together for years. They make sure that they reach as many people as possible.
10. Daily gestures
You do not need to do great acts of kindness to instill humanity into your life. Give smiles to the unnoticed people on your way to the office. Help your neighbors and colleagues whenever they need you. Visit an orphanage and play a game with the children there. And most important of all, see the good in everyone you meet.
When bad things happen, you do not need to feel depressed. Out of harsh situations, there are always stories of ordinary people doing extraordinary things!
Read Next: Where Can I Get HGH (Human Growth Hormone)?