Well, if you have landed here, then you may be speculating about human aging and are curious about the woman who has experienced many birthdays. She is the woman who has witnessed all the historical events of the last century. So you will not leave empty-handed; you will learn about the oldest woman in the world right here. Do not wait any longer; read on now.
The Oldest Woman In The World
Jeralean Talley
Jeralean Talley, a resident of Michigan, breathed her last on June 17, 2015, at the age of 116. The Los Angeles-based gerontology research group claimed that Talley was the oldest person in the world according to records.
The oldest woman had dedicated her longevity to the Almighty. On her 116th birthday, she felt as she always did and enjoyed her life to the end. Her birthplace is Montrose in Georgia and she was born in 1899. Later in the 1930s she moved to Michigan. The lady lost her husband in 1988 at the age of 95. Her favourite hobby was bowling, which she played until the age of 104, and she went fishing every year until her death. She enjoyed spending time with her great-grandson, aged 2.
Susannah Mushatt Jones
With the death of Jeralean Talley, the title of the oldest woman in the world passes to Susannah Mushatt Jones. She is 115 years old, and when she was asked about the secret of her long life, she gave a rather simple answer: there is no secret for long life. According to the list of Supercentenarians confirmed by the Gerontological Research Group, she is the oldest living American.
Her family cannot believe that she is still quite well and has no health problems. She never smoked or drank. To this day she sleeps a full 10 hours a night like a champion. Furthermore, her eating habits are quite interesting and healthy. She loves to start the day with bacon. Her breakfast consists of four strips of bacon, groats, and scrambled eggs.
She is also a minimalist when it comes to medication. The only pill she takes is for high blood pressure; otherwise, she takes multivitamin supplements. At the age of 100 she lost her sight due to glaucoma and refused cataract surgery. She was recommended a pacemaker, but she refused to have one. Once every three or four months she visits her family doctor.
Emma Martina Luigia Morano-Martinuzzi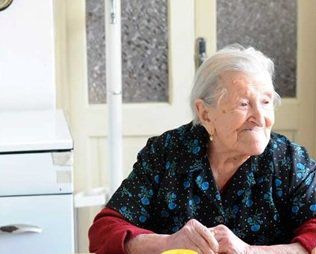 Meet Emma, the oldest living person in Italy. She was born on 29 November 1899 and is 115 years old. She also has the honour of being the last surviving person in Italy born before 1900. She was born as the eldest daughter of Giovanni Morano and Matilde Bresciani in the province of Vercelli, Italy. She owes her longevity to the unusual way she was fed. When she turned 20, her doctor advised her to eat one raw and one boiled egg every day, and she still eats the same way today.
In one of the Italian newspapers, she said that her dinner was also light and contained a glass of milk. Apart from her eating habits, her sleep pattern could also have a positive influence, as she sleeps enough. Another interesting factor about her is that she follows the ancient practice of going to bed early and getting up early. She goes to bed at 7 pm and gets up before 6 am.
Violet Brown
Born in Jamaica on 4 March 1900, this lady boasts that she is one of the oldest women in the world. She is 115 years old and can read her daily newspaper perfectly and without glasses. The secret of her long life is said to be that she stays healthy, without age-related illnesses. In addition, the centenarian reveals another secret, which is to respect your parents and honor them. She pays tribute to her family and their hard work during childhood. Her diet includes everything except chicken and pork.
She also does not consume rum. She finds it hard to believe for herself that she is now 115 years old. Although she is less active in recent years, she still makes her bed every morning. Her son and grandson take care of her. Although she is hearing impaired, her life has not suffered much and she does not suffer from any of the major diseases.
Nabi Tajima
Born on August 4, 1900, and at the age of 114, Tajima is a Japanese centenarian. At this time, according to records, she is the oldest living person in Japan. And she is the fifth oldest in the world. She lives in Kagoshima, where she was born. She is the last Japanese survivor of the 19th century.
Goldie Steinberg
Goldie Steinberg from the USA was born on 30 October 1900 and is 114 years old. Her 114th birthday was celebrated at the Grandell Rehabilitation and Nursing Center in Long Beach, New York. The world's oldest documented Jewish woman was delighted on her birthday by her friends, family and numerous local politicians. She was born in the city of Kishinev, which was part of the then Tsarist Russian Empire.
The most terrible memories she can remember are the bitter Kishinev pogroms of 1903 and 1905, but she does not remember that painful time herself; she relived them through stories from her siblings and parents. Her family was protected by one of the non-Jewish neighbors who hid them all in his house. Her father Chatzkel vividly remembered the frightening moments.
When Mrs. Steinberg was asked about her memories of the First World War, she said she had witnessed how many Jews came to the town of Kishinev to escape the clutches of death. The city had opened three shuls for the many Jews who came to the city as refugees to sleep and live there. The lady, who has experienced many terrible moments, is now one of the Supercentenarians.
Photo Credits:
Jeralean Talley: wkrn.com
Susannah Mushatt Jones: seniorplanet.ort
Emma Martina Luigia Morano-Martinuzzi: grg.org
Violet Brown: supercentenarians.info
Nabi Tajima: z3.invisionfree.com
Goldie Steinberg: longisland.news12.com