Sometimes it can be difficult to choose the perfect birthday present for your wife, especially if you have known each other for years and have already bought her everything you can think of.
Some husbands have actually given their wives gifts and been amazed at the expression of betrayal on their faces when they saw the gifts. They thought they had done the right thing, but in reality, it is the same gift they bought a few years ago.
So it is really important that husbands think a lot before they decide on a gift because your wife has high hopes for your gift and you will feel terrible if you give them something that they do not like.
If the special day of your beloved wife is approaching and you have no ideas what to give her as a present, this article will give you some useful expert tips on birthday gift ideas for your wife.
Best Birthday Gift Ideas
Verilux HappyLight
If your girlfriend (future wife) or wife spends most of her time indoors in her home office, Verilux HappyLight could make a great birthday present, bringing a dose of artificial daylight to your workplace. These lamps are designed to increase concentration and productivity and to lift spirits.
Product Specs:
Natural, simulated daylight raises the mood, the energy level and improves concentration
Helps to cope with the effects of jet lag, winter blues, changes in work shifts, and seasonal changes
Simulates natural daylight to improve mood and general well-being
The sophisticated space-saving design is perfect for a dorm room or home office
Energy-saving lamp consumes only 36 W of energy and returns 300 W of simulated daylight
Buy this product from Amazon.
My Therapy – Funny Wine Glass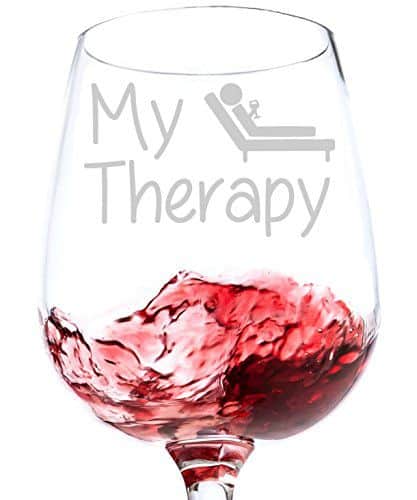 This cool, fun wine glass can be a perfect birthday present for her if she is a wine lover. This glasswork with 13 ounce Libbey stem competes with the quality of fine crystal glasses. It has a strong base and a high handle, which makes it difficult to knock over, unlike other normal plastic cups. The cool slogan on the glass objects is etched and engraved so that it will never fade. It is perfectly designed for enjoying wine with class and ease.
The 'My Therapy Funny Wine Glass' can be a unique birthday present for your wife, but also for your girlfriend or mother.
Buy this product from Amazon.
NanoStyle – I Love You Necklace
How about expressing your love for your wife in many different languages? The pendant of the 'I Love You' necklace features 120 different world languages in 24-carat gold on an oval-shaped black onyx stone and an artifact in a 24-carat gold-plated frame with inscriptions. The "I Love You" pendant is suspended from a 45 cm long 18-inch gold chain. Sometimes the text labyrinth engraved on the pendant can only be seen with a magnifying glass, which is supplied free of charge with the purchase.
This beautiful and unique pendant is foolproof compared to many other birthday gift ideas for women.
Buy this product from Amazon.
Marc Jacobs Beauty The Sky-Liner
Next on the list of the best birthday presents for the wife is "Marc Jacobs Beauty The Sky-Liner 7-Piece Petites Highliner Collection". This is an elegant eye make-up set for a woman with a great sense of style, containing a set of seven eyeliners from emerald green to deep black – all in one sleek travel case.
Now your wife can line her eyes on the go with this impressive collection of 7 delicate eyeliners. The limited edition of this product comes with 2 new limited-edition colors and 5 best-selling eyeliner colors. This variant concentrates on the characteristic color of the year, "Midnight in Paris".
Buy this product from Amazon.
The Jawbone
Here comes the perfect birthday present for women who love fitness: the Jawbone. This amazing bracelet is in fact like a health detective monitoring your every move. It brilliantly monitors your sleep (deep sleep and naps), your activity (activity and inactivity, calorie consumption), reminds you to stretch your legs if you have been idle for too long, helps you maintain your sleep cycle and stay refreshed, helps you with power-naps (i.e. waking you up at the right time to feel refreshed) and much more. The Jawbone is waterproof, adorable, damn cool and a wonderful fitness product that every fitness enthusiast would love to have!
Hula Delights Roasted Nuts Basket
This delicious basket of roasted nuts can be a great birthday present for her! All nuts that found their way into this tray were hand picked for their quality. The resulting assortment is a delicious form of gourmet delicacies that will delight even the most astute collectors. It contains roasted salted macadamia nuts, cashews, raw walnuts, pistachios, pecans glazed with honey and mixed nuts. The range is supplied in a unique octagonal container with seven sections. The container is wrapped in beautiful ribbons that make it the most unforgettable gift for any food lover.
Buy this product from Amazon