It's difficult to imagine affording a large apartment in a major city without quite a substantial salary. However, it is possible to optimise the space in your small apartment in such a way that opens up the room and makes it feel more spacious. One way of doing this is with specific sofa designs and shapes that are perfect for small living rooms. The following list will help you select the right sofa for your small living room.
Best Sofa Designs for Small Living Rooms
1. Contemporary yet small sectional:
These assimilate effortlessly with the overall decor of the room because of its simplistic statement. They are tiny and can fit into corners. These sofa sets are ideal for rooms which have a real lack of space.
2. Recliner sofa:
These sofas are exactly what you need for long TV-binging sessions. You can extend the foot rest whenever you want and also make it work like an actual sofa set for the living room.
3. Reversible sectional sofa:
These sofas have the ability to be reconfigured whenever necessary. If you need to make some room in the living area, you can simply change the position of the longer seats to your liking. This saves space for more furniture without actually making the area feel too congested.
4. Sleeper sectional sofa: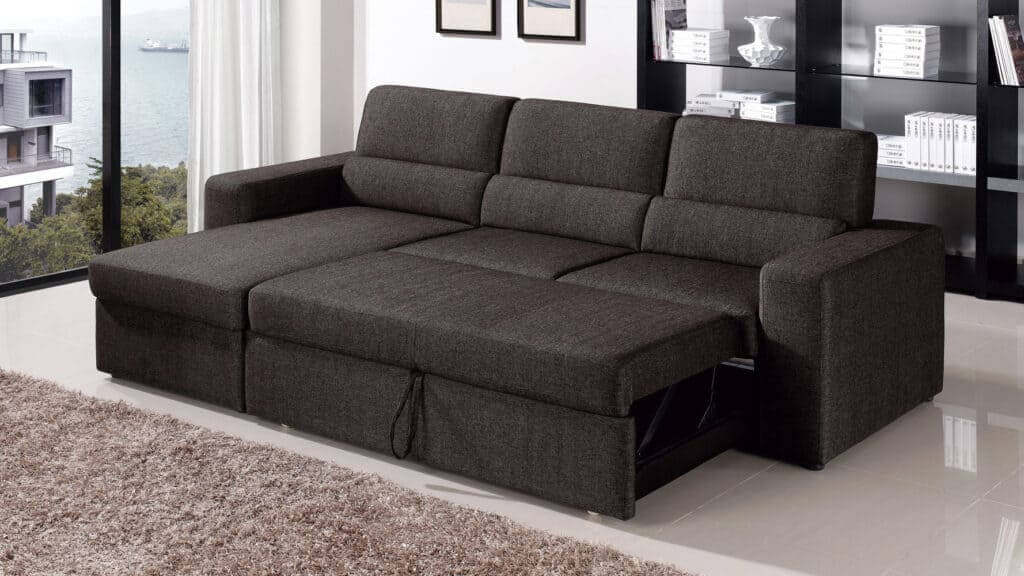 Living in a small space demands a lot from the furniture. Furthermore, it can often be the case that guests arrive on short notice and need to spend the night. It's difficult to accommodate these last-minute guests without a guest room, but with a sleeper sectional sofa design, it can double up as a convertible bed and make everyone have a good night's sleep.
5. Love seats:
If the traditional kind of sofa set is too large for your liking, you can opt for a love seat. It works exactly like a couch, but only accommodates two people at a time. It is available in several contemporary designs and saves a lot of space compared to a standard sofa. Keeping a love seat in your living room enables you to add decorative chairs and stools too.
6. Three piece sofa:
With a three-piece suite, five people can sit on the sofa set at any one time. It usually consists of a love seat and attached chairs. It ensures a lot of seating space without too much crowding and also frees space for a tv wall unit or some accented chairs. If you are thinking of purchasing a three-piece suite online, you can select the number of seats or the sizes of the parts that you require.
On the subject of buying sofas online: this can be a bit of an inconvenience given the inability to touch and feel the sofa itself, as well as being unable to physically measure whether the sofa will fit in your living space. However, online furniture stores can often be cheaper than high-street stores, so for the best results, make sure you're careful with your measurements and ensure that the materials and colour is exactly what you want. You may even be able to add a little bit of customisation as well.
Read Next: 7 Things I Wish You Should Know Before Buying A New Mattress