The time for New Year celebrations has almost arrived. While you are going to be busy with drinking, partying and enjoying with friends, let's not forget those "resolutions" you are going to make in 2016. According to recent survey reports, about 45% of US population makes resolutions every New Year but the most important question is – do we ever follow what we have promised to do for the rest of the year? Of course not! Perhaps, a few may stick to it but not for long.
The problem is that we excitedly start our resolutions (since it is a New Year), but don't actually finish it. We set goals that are probably too broad, which is exactly the reason why it turns out to be hard to achieve. And finally, we give up. So, here are some New Year Resolutions, which we think you are again going to break in 2016. It is better to either avoid making resolutions or choose something easy.
5 New Year Resolutions You Will Break This 2016
Admit it or not, thinking and coming up with a good New Year resolution is too easy. The tough part is — how long are you going to stick to it? Let's take for example the legendary resolution "being fit". Most people take this healthy decision, as soon as the New Year approaches. The first place to have this resolution kick-started with is obviously a gym.
Gyms, both small and big see a huge number of memberships pouring during January. This is when clubs and bars see a massive turn down. In fact, many cigarette companies have reported an immense drop in their sales at this month. However, when February arrives, it comes back to normal. Now, let's see what New Year resolutions like this you are going to break in 2016 again. We will start this list in reverse chronological order:
At No 5: I Will "Eat Healthier and Be Fit"
Whenever we hear this, we have a hearty laugh because this resolution is something 95% people tend to fail at. After those fun days of partying, hogging so much of food (all junk), drinking and hanging out, it is quite natural for people to get a thought of staying healthy and fit. They even join some of the best fitness clubs in town and pay for the entire year but what next?
Well, after a few days of intense workouts at the crowded classes, it can make even the not-born-to-give-up humans to quit. So, we are not an exception. Slowly, by mid-February, we become sloths and finally, our paid membership for the next 10 to 11 months goes waste.
But lucky are the gym rats because studies say that about 70% of their memberships go unused. In fact, the attendance becomes as usual by February end. The reason? Only because we are lazy.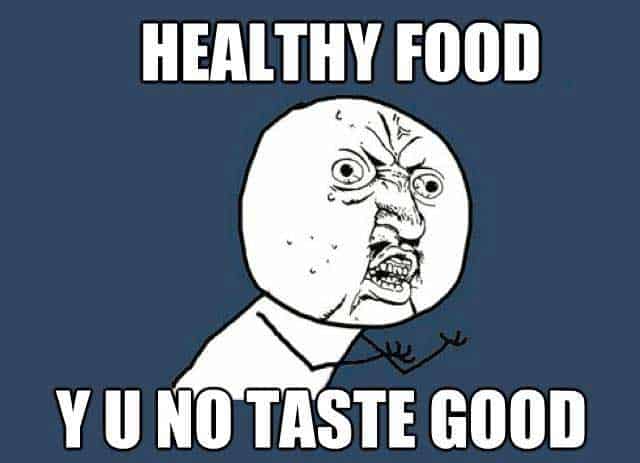 Credit: memecenter
While making decisions, we usually choose to have the ones with highest values, says senior author of paper Antonio Rangel. Now, resisting junk foods all comes down to keeping a high value on health rather than taste. Many researchers have found that it is possible to control a person's eating behavior via thoughts, but it is quite difficult. For this, 2 different parts of your brain are in charge (because they tend to switch roles). One tries to self-regulate while the other tries to change your mind about the food you are going to eat.
At No 4: I Will Spend "Very Less Time On Facebook"
How can we forget Facebook when it comes to New Year Resolutions? Because this is the place where the whole world is at. Spending hours and hours on social media websites has become a substantial problem for many people these days.
Even though we admit that we have this problem, it becomes extremely hard for us to get over it. We make up our minds not to sit on Facebook much but surprisingly, we tend to use more. In fact, to many, logging in and finding out the latest status of their friends has become an everyday morning habit.
Credit: pinimg
When compared to surfing the Internet, it is claimed that Facebook is less useful, less meaningful and just a waste of time. Increased FB use leads to decreased mood," says co-authors Tobias Greitemeyer and Christina Sagioglou from the University of Innsbruck at Austria.
At No 3: I Will Not "Binge Eat"
Yet another resolution people tend to make and break every year is "binge eating". Are you someone, who eats something (probably junk) just because it looks yum? If yes, then you are certainly binge eating.
No matter how much you are firm to stop it every New Year, it ultimately fails. It is one of the hardest resolutions ever. Oh, come on now. With so much of delicious food out there, do you think we are ever going to stick to this promise? Certainly not!
People, who frequently or compulsively overeat, might use food as the only way to cope up with negative or depressing emotions. Consequently, they realize that their eating has gone out of control and the only thought that remains in their minds is "food". Eventually, they feel ashamed, depressed and guilty after eating. It truly becomes hard to quit binge eating, says Michelle May, MD, author of Eat What You Love, Love What You Eat.
At No 2: I Will "Spend Less, Be Debt Free And Start Saving"
Ha Ha, this is truly a big joke and we guess no one better than you knows it. Spending less, paying off all the debts and saving enough is one of the most popular resolutions, which many have failed in accomplishing.
This resolution requires a big reduction of our conventional and comfort habits which we think is something we do not actually want to give up. How many times have you made this promise to yourself and went broken? Guess, a million times! If you are a huge spender, who often splurges while shopping, it is nearly impossible to stick to this resolution.
Credit: theberry
Somehow or some other, we all are affected by compulsive spending. April Lane Benson, a Psychologist explains compulsive spender as a person, who puts a lot of thinking, energy and time into buying stuffs that it impairs his/her life in a significant way. At times, excess spending can turn out to be a nasty cycle. Kit Yarrow, a customer research psychologist has found that it is one's guilt that leads to compulsive spending and becomes hard to quit. However, you can stop this behavior.
At No 1: I Will "Be Organized"
Being organized and managing time with something useful is a resolution we all tend to make every New Year. This is something that many people want to improve. And to start this, New Year is the best date right? We guess, you know the rest of the story. It is self-explanatory.
Credit: thelegendhimself
Organizing can be overwhelming and even the smartest out there can sometimes feel hopeless on this. It happens to all. This problem is something many people face and it is not new. However, there are many ways you can overcome this.