"When they called my name I had this feeling I could hear half of America going, "Oh no! Oh, c'mon why? Her? Again? You know? But, whatever." Thus spoke Meryl Streep after winning Best Actress in a Leading Role for The Iron Lady at the 2011 Oscars
Meanwhile, as we eagerly await the 88th Academy Awards Ceremony, scheduled for February 28, 2016, at the Dolby Theatre, let's take a look at some of the records from the 2947 Oscar awards that have been given out since 1929.
The Oscars, or Academy Awards, is the annual ceremony hosted by the Academy of Motion Picture Arts and Sciences to honor outstanding achievements in the art of film, watched by 40.4 million viewers worldwide and presented live in more than 200 countries. A statuette officially called the "Award of Merit", and commonly known as the "Oscar", is awarded in various categories to the winners, who are selected by the vote of the Academy's members.
In 1929, the first Oscars were awarded at the Hollywood Roosevelt Hotel. They were first broadcast on radio in 1930 and on television in 1953. In 2014, the ceremony was also broadcast live on the Internet for the first time. The award ceremony was so successful that many more clones were initiated based on the model of the Oscars: Grammys for music, Emmys in the television industry, and Tonys for musical theatre.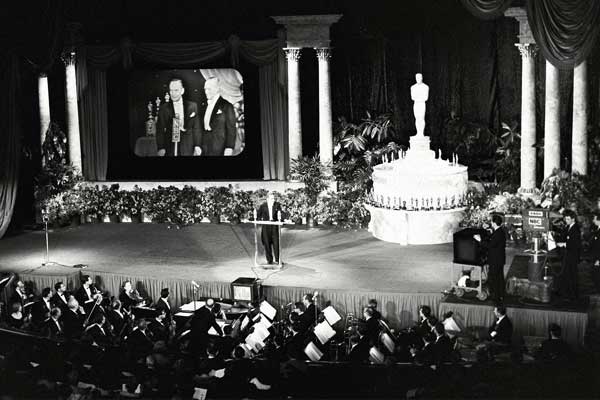 1. Maximum Awards won by a single film: 11 Oscar Awards
The Lord of the Rings: The Return of the King (2003)
Titanic (1997)
Ben-Hur (1959)
2. Maximum Nominations received by a single film: 14 nominations
All About Eve (1950)
Titanic (1997)
 3. Most Awards for Best Actor
An actor with dual British and Irish citizenship, Daniel Day-Lewis has the honor of winning the most Oscars in 1989, 2007, and 2013 in the Best Actor category. He has also been nominated 5 times.
4. Most Awards for Best Director
John Ford won 4 Academy Awards for film direction: The first in 1935, the second in 1940, then in 1941 and the last in 1952.
5. Most Awards for Best Actress
Katharine Hepburn with 4 Oscars for best actress. She got her first award in 1933, followed by successive wins in 1967 and 1968. Her last award was for the film On Golden Pond in 1981.
6. Most Actress Oscar Nominations
Meryl Streep has been nominated 19 times in total. She should rename herself as Oscar Streep.
7. Most Actor Oscar Nominations
Till now, Jack Nicholson has been nominated 12 times for Academy Awards.
8. Winners of Oscars in The Big Five Categories
There are three films with the honor of having won Best Picture, Director, Actor, Actress, and Screenplay, Original or Adapted:
It Happened One Night (1934)
One Flew Over the Cuckoo's Nest (1975)
The Silence of the Lambs (1991)
9. Maximum Number of Oscars Won for a Foreign Language Film
Two foreign films have won 4 Oscars
Fanny and Alexander (1982): Best Costume Design, Best Cinematography, Best Art Direction and the Best Foreign Language Film
Crouching Tiger, Hidden Dragon (2000): Best Art Direction, Best Cinematography, Best Original Score & the Best Foreign Language Film
10. The Country with the Most Best Foreign Language Film Awards
With 14 academy awards, Italy is at the top of all countries. The country has also been nominated 32 times in the foreign-language film category.
11. Most Nominated Country for Best Foreign Language Film
French films have been nominated 40 times and have won 12 Academy Awards.
12. Highest Number of Nominations for a Foreign Film
With 10 nominations, Crouching Tiger, Hidden Dragon (2000) has the most ever nominations for a foreign film: Best Camera, Best Screenplay, Best Costume Design, Best Director, Best Original Song, Best Adapted Screenplay, Best Foreign Language Film, Best Original Music, Best Director, and Best Film.