If you've just rescued an animal (or plan on doing so), there are several things you need to do in order to look after it properly. These pets often require some extra care and attention, so it's important to be prepared in advance. Perhaps you should get a modern dog crate for your beloved pet or repair your fences and boundaries. In this article, we'll discuss the basics of taking care of rescued animals and provide tips on keeping them comfortable, safe, and healthy.
Make Sure There's Enough Space
Animals that are cramped up in small spaces can become anxious and stressed, which can lead to health problems. So giving your pet enough room is not only good for their physical health but also their mental health. Because your new acquisition is a rescue pet that's in unfamiliar surroundings, this aspect is even more critical.
The amount of space an animal needs depends on the size, age, and breed of the animal. For example, a young puppy will need less space than an adult dog. Make sure you have enough room for your pet to run around and play. If you live in an apartment, consider taking your pet for walks or to the park to get some exercise.
Consider Seeking Therapy For Your Pet
Rescue animals often come with a lot of baggage. They may have been abused or not given the attention they need to thrive. As a result, they can be skittish, anxious, and even aggressive. While this is understandable, it can make them difficult to integrate into a home environment – both for the animal and for their new family.
There are many ways to provide therapy for an animal, and one example is through dog massage. This has been shown to reduce stress and anxiety in canines, as well as improve their overall health. The people who visit the Transformations Mending Fences website demonstrate the need for equine therapy for PTSD, involving customized treatment plans. The results can come quickly, including a regained sense of control and the rebuilding of trust.
Make Sure Your Pet's Enclosed
If your pet's unsupervised and not contained, it can easily get lost or hurt. Moreover, a contained rescue pet is less likely to be stolen. Finally, keeping your pet enclosed keeps other people and animals safe as well. A rescue animal may not have had the best experiences with humans in the past and may lash out if feeling threatened.
A fence is the best way to enclose your yard so that your rescue pet can run and play without worry. Make sure it's tall enough and made of material that your pet can't easily escape from or break. A solid wood fence is a good option, but make sure there are no gaps or holes that your pet could squeeze through. If you live in an apartment or don't have a yard, consider enclosing a porch or balcony with screening material such as a chicken wire.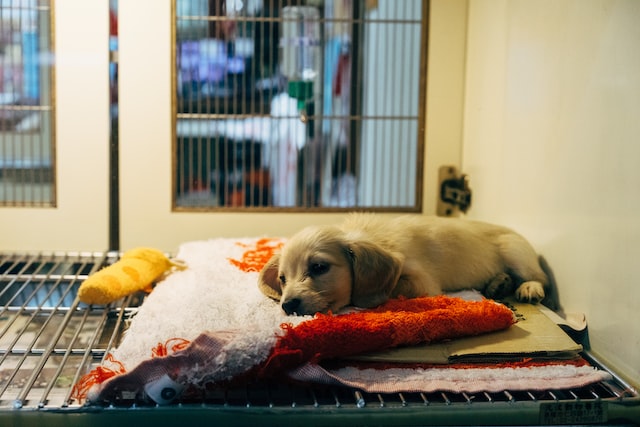 Be Prepared For A Transition Period
Your new pet may be scared or anxious at first, and it'll take some time for them to adjust to their new home. Be patient and give your pet the time they need to settle in and feel comfortable. They'll need to get used to their new environment, you and your family, and the rules of the house. This process can last anywhere from a few days to several months.
Set some ground rules with your family before bringing your rescue animal home so everyone's on the same page. Once you've decided where your animal will sleep, eat, and go to the bathroom, stick to those established areas as much as possible during the transition period. This will help your animal feel more comfortable and secure in their new home.
Consider Involving A Professional Trainer
If you're going to acquire a rescued animal, involving a professional trainer early on can be very helpful. They can assess the animal's temperament and give you guidance on how to best care for it. If you've never trained a dog before, working with a professional trainer can be invaluable in helping you get started off on the right foot. Training can help you bond with your dog and build a relationship based on trust and respect.
A trainer can help you with obedience training, which is the process of teaching your dog basic commands (like sit, stay, come, down, and heel, etc). In terms of socialization, they can help you introduce your dog to other people and animals in a controlled environment. This is important because it helps your dog learn how to interact with others safely and confidently. As regards
behavior modification, a trainer can help you work on specific issues like barking, chewing, digging, and jumping. If your dog's displaying any of these behaviors, a trainer can help you understand why your dog's doing it, and how to change the behavior.
Let The Veterinarian Check It Out
Before you bring your new pet home, you want to ensure that it's healthy and free of any contagious diseases. Secondly, by taking your animal to the vet for regular check-ups, you'll establish a relationship with the staff and they'll get to know your pet. During your visits, they'll be able to make sure your animal is up to date on its vaccinations, etc.
Thirdly, many veterinarians offer discounts to rescue organizations or individuals who adopt animals from shelters. Finally, by keeping up with your animal's health care, you're more likely to catch any problems early on. This means that any treatment will be less expensive than if the condition is allowed to progress unchecked.
Once you've done all the things we've suggested in this article, don't forget about a healthy diet and regular exercise. Thanks to these tips and a whole lot of love, you'll reap the benefits of all your hard work. Your rescue pet will become a much-cherished addition to your family that you'll enjoy for many years to come.