Naming your rabbit will surely come with a lot of challenges. What would best suit them? Do you want to go for something neutral and unique? Do you want cartoon-inspired names? The confusion could be more extensive.
The naming process of your pet is quite personal and meaningful, and you want to ensure that it best fits your rabbit's appearance and personality. Sometimes, it might reflect their favorite interests, too.
This article will take you through all the details about the top 300+ bunny names you can choose from for your pet rabbit.
Factors to Consider When Naming Your Rabbit
Before you browse the internet to look for the perfect name for your rabbit, there are a few factors worth considering. So, let us get those out of the way:
1. Personality Traits
This is the highlight and the primary factor worth considering when naming your rabbit. Pay close attention to your rabbit's behavior and temperament, too. Is your bunny playful, shy, or naughty? Finding that should make the process of naming them a little easier.
2. Physical Traits
Now, moving ahead to the way your bunny looks. Let's give you an example. If you have a bunny with white and cloudy fur, naming them Snowy is an excellent option. If they have brown or similar colors, calling them Cinnamon makes sense.
3. Breed Specific Names
This can be limiting, but there are a few breed-specific names for rabbits that you can check if you want. The options, like we said, are a few in that case. Some examples include Lop and Flemish.
4. Pop Culture and Influences
We have witnessed people naming their rabbits based on movies, new pop culture trends, and even cartoons that air. If that is something that you resonate with, that's another factor worth prioritizing when naming your pet bunny.
5. Uniqueness and Individuality
Sometimes, we want our pets' names to stand out from all the mainstream ones we hear around. In such cases, you can check through unique names and see which one would best fit your rabbit.
300+ Rabbit Names to Choose From
When curating this list of names for your pet rabbit, we aimed to make the list diverse and extensive. We wanted to include different themes and categories so there's something for everyone to like and choose from.
Also Read: 200+ Cool Usernames For Instagram, Twitter, Snapchat, Reddit
Classic and Traditional Rabbit Names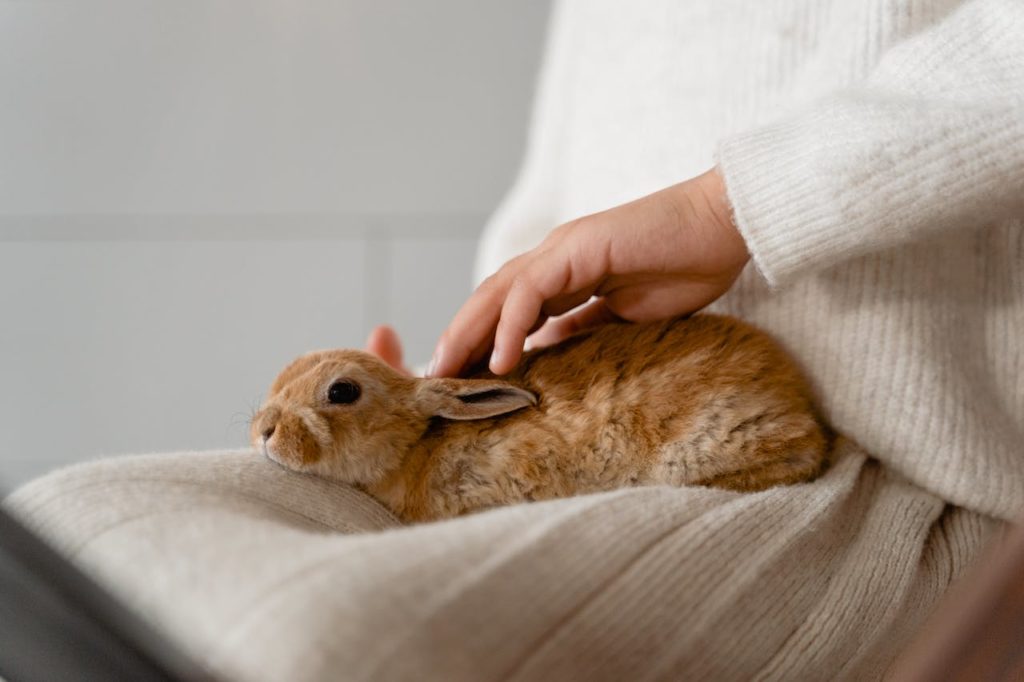 Daisy
Sunny
Hopper
Tucker
Pumpkin
Smokey
Pippin
Willow
Peaches
Ruby
Max
Benny
Lily
Sasha
Alfie
Flopsy
Misty
Snickers
Harvey
Bella
Mocha
Lola
Gus
Nutmeg
Winnie
Flora
Rascal
Leo
Maggie
Sage
Maple
Peanut
Cupcake
Oliver
Oscar
Buddy
Cooper
Ginger
Pebbles
Misty
Lola
Molly
Daisy
Tucker
Toby
Bella
Lulu
Theo
Sophie
Abby
Maddie
Coco
Teddy
Lenny
Rosie
Maddie
Sandy
Louie
Benny
Baxter
Famous Rabbit Names
Alice – From "Alice in Wonderland"
Eeyore – The donkey from "Winnie the Pooh"
Thorny – A character from "Bambi"
Energizer – Inspired by the Energizer Bunny March
Hare – From "Alice's Adventures in Wonderland"
Pat – A character from "Watership Down"
Velveteen – From "The Velveteen Rabbit"
Watership – A reference to the novel "Watership Down"
Pooka – A mischievous creature from Irish folklore
Bunnicula – From the children's book "Bunnicula"
Dandelion – A character from "Watership Down"
Fiver – Another character from "Watership Down"
El-ahrairah – A legendary rabbit hero from "Watership Down"
Hutchinson – Named after Anne Hutchinson, a historical figure
Cowslip – A character from "Watership Down"
Strawberry – Inspired by the song "Puff the Magic Dragon"
Trixie – From the "Trix" cereal mascot Hazel-Rah – A character from "Watership Down"
Aesop – The ancient Greek fabulist who wrote "The Tortoise and the Hare."
Bruno – Named after Bruno the Rabbit in Disney's "Cinderella"
Cottontail – From the Beatrix Potter stories
Mr. McGregor – Another character from Beatrix Potter's tales
Nibbles – The name of the rabbit in the "Garfield" comic strip
Cadbury – Inspired by the Cadbury Bunny in commercials
Rogerina – A female version of Roger from "Who Framed Roger Rabbit"
Also Read: 300+ Cool Usernames for Games
Cute and Playful Rabbit Names
Twix
Rascal
Poppy
Muffin
Cheeky
Wiggles
Hazel
Boink
Waffles
Snuggle
Marshmallow
Fluffy
Kitty
Tinkerbell
Rosie
Noodles
Button
Nugget
Pixie
Mittens
Toby
Sprout
Flossie
Charm
Doodle
Nash
Pepper
Hiccup
Mozart
Sparks
Finn
Niblet
Pudding
Rags
Snowy
Dumpling
Trinket
Bubbles
Pickles
Pickle
Snowflake
Bink
Chip
Giggles
Honeybun
Biscuit
Fudge
Sprinkle
Poppet
Nectar
Lavender
Sugarplum
Binky
Cheddar
Pinky
Tootsie
Mango
Frisbee
Snickers
Candie
Fluffernutter
Dumpling
Dottie
Snickerdoodle
Gummy
Huckleberry
Pickles
Snickerdoodle
Jellybean
Butterscotch
Cupcake
Hershey
Snickers
Caramel
Jellybean
Nature-Inspired Rabbit Names
Aster
Willow
Sorrel
River
Dewdrop
Thistle
Sparrow
Marigold
Sable
Daisy
Pansy
Heather
Fawn
Lavender
Sandy
Frost
Rainbow
Pebble
Blossom
Lark
Also Read: Anime Usernames: 500+ Cool and Eye Catchy Usernames
Food and Treat-Inspired Rabbit Names
Peaches
Chai
Jellybean
Waffles
Caramel
Pumpkin
Spice
Honeydew
Marmalade
Cotton Candy
Peanut Butter
Lollipop
Vanilla
Truffle
Gingerbread
Lemon Drop
Candy Cane
Pretzel
Licorice
Raisin
Brownie
Tootsie Roll
Historical and Mythological Rabbit Names
Artemis – The Greek goddess of the hunt
Pan – The Greek god of nature and the wild
Eostre – The Germanic goddess associated with Easter
Br'er – A reference to Br'er Rabbit in American folklore
Oisin – A figure from Irish mythology
Thumperina – A playful twist on Thumper
Lepus – The Latin word for "hare."
Boudicca – Named after the Celtic queen associated with a hare symbol
Horus – The Egyptian deity associated with a hare
Shamash – A god in Mesopotamian mythology
Eostre – A Germanic goddess associated with the Easter Bunny
Izanagi – A deity in Japanese mythology
Eostre – A Germanic goddess associated with the Easter Bunny
Tiamat – A primordial goddess in Mesopotamian mythology
Lapin – French for "rabbit"
Merlin – The legendary wizard from Arthurian legends
Aphrodite – The Greek goddess of love and beauty
Osiris – The Egyptian god of life, death, and fertility
Loki – A mischievous god in Norse mythology
Unique and Creative Rabbit Names
Zephyr
Avalanche
Luminary
Meadowhawk
Nimbus
Sprocket
Seraphina
Wisteria
Presto
Calypso
Xanadu
Nebula
Kaleidoscope
Galadriel
Elixir
Perseus
Gossamer
Echo
Cassiopeia
Pendragon
Mystique
Nightingale
Cerulean
Quasar
Fenrir
Sphinx
Hermes
Zephyrus
Zarathustra
Pandora
Xerxes
Aquarius
Nirvana
Talisman
Aurora
Ozymandias
Sovereign
Peregrine
Euphoria
Onyx
Helios
Solstice
Andromeda
Hubble
Zephyrine
Azura
Eclipse
Anemone
Equinox
Fenella
These are some of the rabbit names that you can browse through and see which one would fit your pet rabbit the best.
Tips to Choose the Best Name for Your Pet Bunny
Since naming your rabbit is such a monumental decision, we'd suggest you take your time. Rabbits are pretty impressionable, so if you call them by their name, chances are that they'd respond. So, you want to choose a name that best represents them.
Following are a few tips that can make the process of choosing a lot easier:
Rabbits do prefer something short and simple with a few syllables. So, keep that in mind when choosing a name.
If you are training your pet bunny with common commands like sit and stay, etc., you don't want to pick names that sound similar to those commands.
Before you finalize a name, try a few names and call out your rabbit by them. See which name they respond the most to.
Being confused about what to name your pet rabbit is common. If you are stuck and feeling overwhelmed, ask for suggestions and help from your friends and family.
Lastly, when naming your rabbit, think of the meaning and significance of the name to make it more sentimental.
Also Read: 150+ Inappropriate WiFi Names For Your Annoying Neighbors
Conclusion
That brings us to the end of the article. We have mentioned 300+ names for your pet rabbit in this article, but the thing is, the choice comes down to you at the end. What do you think would best fit your pet bunny? Which name do they respond the best to? The choices can seem confusing, so browse through them and pick one that's simple, meaningful, yet unique.