Wynwood is becoming globally renowned as a center for art and artists in Miami. Though this level of attention to the neighborhood is a relatively recent phenomenon, the history of modern Wynwood reaches back more than a century. Wynwood is a classic example of a neighborhood that has rapidly undergone many changes in terms of both population and industry. The changes reflect both economic and political trends in the city.
When Was Wynwood Founded?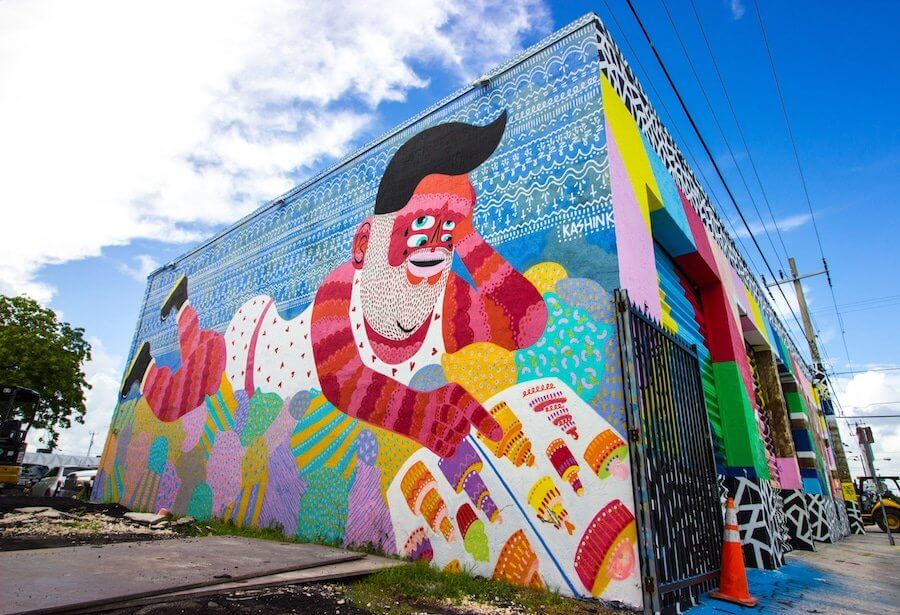 Wynwood was founded in 1917 by Josiah Chaille and Hugh Anderson. Originally named "Wyndwood Park," officials later dropped the extra "D" and shortened the name. At the time of its founding, the area that would become Wynwood was actually outside of the Miami city limits; Wynwood was in an area that was then known as North Miami. Over time, the footprint of Miami would become much larger as the city purchased and annexed numerous tracts of land.
The modern city of Miami has a booming real estate industry with thousands of realtors making business deals every day. Josiah Chaille was, in fact, Miami's first real estate agent. He likely had no idea of the enormity that the Miami real estate industry would someday become.
What is the History of Miami's Wynwood Area?
Wynwood was long a working class neighborhood where many of the area's residents worked right in the same neighborhood. In the 1950s, Wynwood was known as "Little San Juan" due to the many residents of Puerto Rican origin. Though by the 1970s, only about a third of the population claimed Puerto Rican heritage.
In the 1980s, several art galleries owned by non-residents of Wynwood began moving in. In the mid-2000s, Tony Goldman began buying up portions of the area's warehouses, which led to the creation of the Wynwood Walls. Once the Wynwood Walls were in place, visitors began to come to the area to view the public art, which led to further investment in new galleries, food and beverage establishments, and other businesses.
What Kinds of Industries Have Thrived in Wynwood?
Long before Wynwood became a premier destination for art galleries, restaurants, bars, and public art, Wynwood was home to a variety of industries that offered jobs in the area. One notable example was the American Bakeries Company, a bread manufacturer that joined the area in the 1920s. Today, the old bakery warehouse still stands as a home for galleries and art classes. Wynwood was also home to a Coca-Cola bottling plant, an orange juice bottling plant, and a variety of garment industries.
What Kinds of Art Can I Find in Wynwood?
Wynwood may be best known for its outdoor public murals and graffiti. Since the beginning of the Wynwood Walls, the entire city of Miami has seen an increased interest in murals. When you visit Wynwood, you won't be able to miss the murals. That being said, 2D public art is not the only kind of art that one can find in the area. Wynwood enjoys numerous galleries, art museums, theaters, and other venues for a variety of visual and performative art. Wynwood offers an artistic experience for everyone, regardless of your preferred aesthetic or interest.
Wynwood Art Walk
When is the best time to visit Wynwood? There is always something happening, but if you want to catch the goings-on at their peak, a great time to visit is the second Saturday evening of each month. At 6:00, the Wynwood Art Walk commences and continues throughout the night. You'll be able to catch gallery openings, live performances, food and drink specials, grand openings and more. If you are an art enthusiast, the Wynwood Art Walk is a must-see. Can't make it on the second Saturday? There's an online calendar that lists all the Wynwood events, it's a great way to plan your visit any day of the year.
What Do I Need to Know Before I Visit Wynwood?
Before visiting Wynwood, you'll want to plan your visit carefully. There is simply so much to do that you won't be able to catch it all in a single evening. Check out events calendars online to avoid FOMO! As you explore Wynwood, you'll see echoes of the neighborhood's history alongside the neighborhood's newest developments.